Gaming has become very popular in our youth and even adults. Therefore a gaming room has become a necessity in our household. You might feel overwhelmed with so many trends and options when it comes to gaming room decor. But we have a solution to all your confusion as this article is all about Modern Gaming Room Decoration Ideas on a Budget. These ideas are for all the gamers who are in search of their gaming room related ideas and are planning to decorate the gaming area. Plus, these ideas will make your gaming room look cool and will also make gaming fun.
Best Gamer Room Setup Ideas on Budget
Light Sabers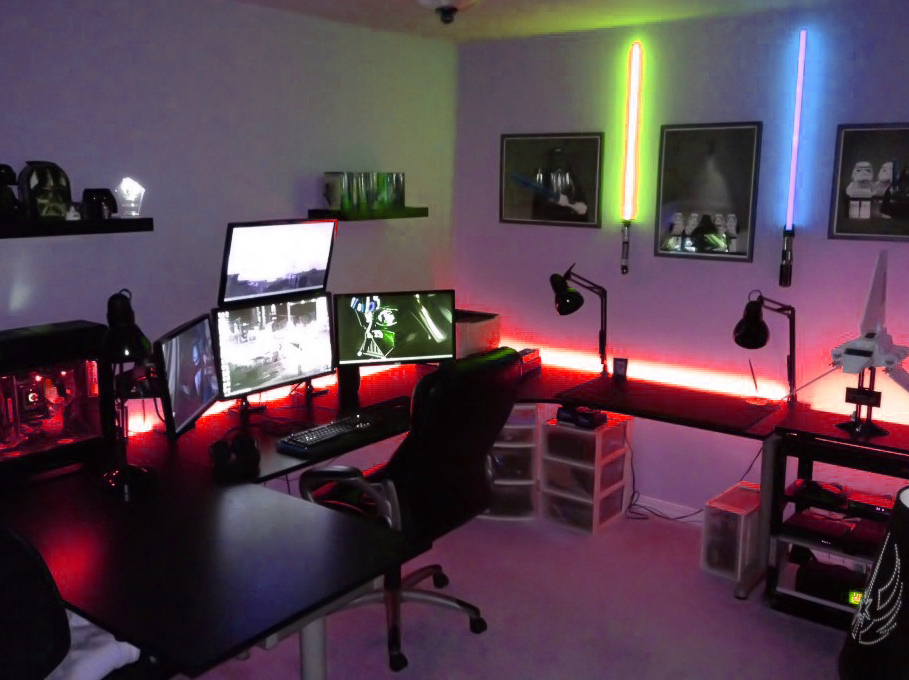 Late-night gaming is more common than that of daytime gaming as gamers feel relaxed about playing games after a tiring day. So your game room and Ideas For Studio Apartments must have a proper lumination system. For night-time gaming, we recommend using light sabers for the room. A light saber is a sword-like light and gives pink, green, blue and red lights. You can use any light you want depending upon your liking. But we suggest you get all four colours and align them together to get a very mesmerising night-time lighting.
In addition, you can align them in a way where two different coloured sabers will be mounted on the wall as sconces and a single saber below them will act as an overall main light for the room. Such a game-like lighting atmosphere gives all the gamers a satisfying vibe.
Gaming Room Wallpaper
Wallpaper is the most vital element in any room's decoration. While decorating your gaming room you might find it difficult to decide on a perfect wallpaper for the walls. Worry not as our list of creative gaming room decor ideas has a lot of wallpaper ideas too. Most gamers tend to have plain Wall Stickers Designs for house like grey or off white because plain walls stand out in the gaming room lighting. However, if you do not like your gaming room walls to be simple and plain you can get a simple printed wallpaper with minimal print for the room.
For a little more technical look we suggest you go for 3D panelling for the gaming room wall. In our opinion, 3d panelled wall decor goes very well with a gaming room decor theme. In addition, for teenagers, the best bet is to get a wallpaper that has their favourite game player printed on it. Plus you can also get wallpapers with game-related quotes like "game on" or "game over". A decent way is to get a customised wallpaper of your name or all your favourite game players' names. Such wallpaper will suit your gaming theme room very well and will also impress your gaming buddies.
Gaming Accessories Corner
Gamers need a lot of accessories while they play including headphones, joysticks and other game controllers. It is obvious that you will have to keep all these in your gaming room. Simple accessories scattered all over the room will give a messy look. Therefore, we suggest you buy lightning joysticks and headphones to match the overall room decoration. Moreover, you need to dedicate a corner for accessories where you can keep them after finishing the game. This corner can be a rack or a storage cupboard as well. To decorate it you can keep game-related decoration items like your favourite characters.
Gaming Room Wall Decor
One of the best room decorations for gamers is to use the walls as canvas and decorate them. There are hundreds of options that you can consider while decorating the gaming room walls. We however have selected a few unique ones for your ease. Firstly, you can buy neon signs for the gaming room walls. These signs look very cool and classy as well. You can get a customised sign of your favourite game-related phrase and can also get designed signs as well.
Secondly, you can get neon character sketches for the wall. Such characters look very cute for a gaming room decor. Thirdly, you can try getting posters for your gaming room's wall. These posters can be of anything ranging from game characters to game covers. Fourthly, you can get different wall stickers that are based on your favourite games and themes. These stickers will look very unique once stuck to the wall. You can easily find gaming stickers online as well as in local gaming shops. Lastly, you can get ordinary paintings or photos for your gaming room as it will also look thoughtful and creative.
Screen Setting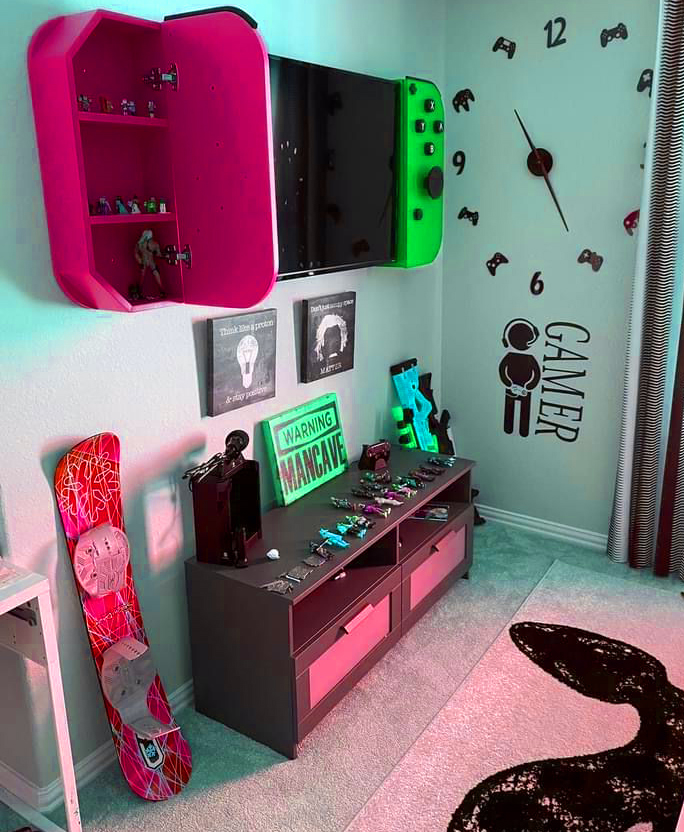 Which is the one thing that completes your gaming room? It surely is your gaming screen. Gamers usually prefer to have a big size and good graphics when it comes to choosing a screen. Whatever your demands are make sure to set the screen in a most elegant way. One way is to get 2 or three smaller screens and place them together. The Best TV Units Ideas is very popular among gamers all across the world. Another way is to get a big LCD screen and mount it on the panelled area of the wall but make sure to not cover all the panelled area so that it can give your LCD a pretty background. In addition, you can get a joystick styled stand for your gaming screen. This kind of screen looks very trendy and is also appropriate for your gaming room. Also, you can get a table for your gaming PC's screen and style all other accessories beside it to give you a gaming area vibe.
To sum up, all these gaming room interior designs are a pro like you are at your game and they will also make your gaming experience beyond amazing.