As they say "Music is the food of the soul" and imagine that if this music is natural, on top if it is the music of the mellifluous sound of water than it becomes almost impossible to describe in words. More so for those who love nature and seek refuge in nature to feel the serenity and calmness there. Standing under a waterfall and witnessing its beauty cannot be encapsulated through words. The magical, refreshing water from a waterfall can rejuvenate your soul and body. From a distance, it looks like a silent stream. But as you get closer you get lost in the beauty of the waterfall from the mountain. Sajikot waterfall Pakistan gives you an opportunity to experience this magical view.
A human beings from the very genesis have been the companion of nature and they sought not only to refuge there but also it worked as a source of survival. Fast forward, in this day and age, we have become extremely materialistic and commercialized that nature has got deteriorated at our hands. The tall buildings may make life a bit easy but they cannot guarantee happiness and perhaps that is the reason that people after getting fatigued from their daily toil rush toward natural sceneries and waterfalls are the most sought-after destinations to spend some time.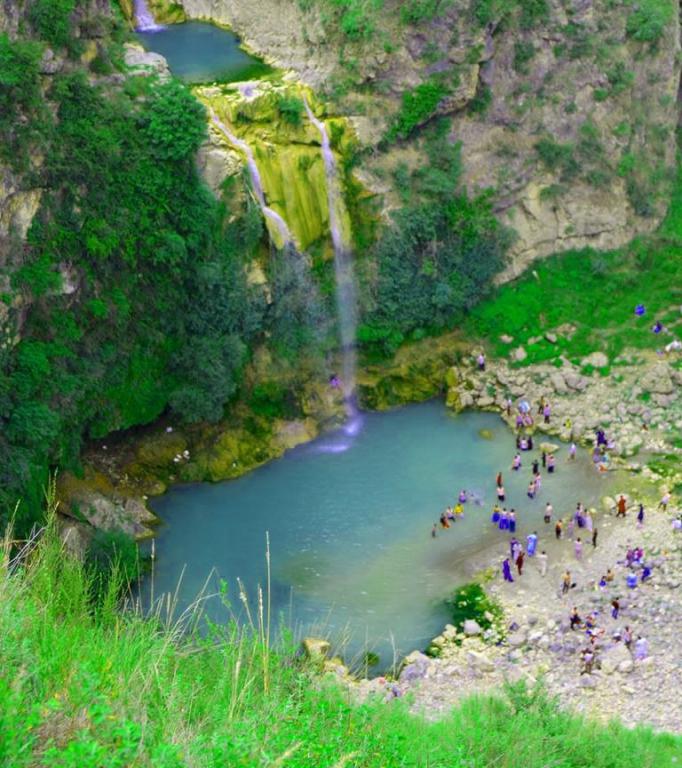 Khyber Pakhtunkhwa, the Tourism Hub
Khyber Pakhtunkhwa is the most beautiful province of Pakistan that embraces diversely stunning natural scenes in its lap. It not only shares border with Afghanistan but also has a deep influence of its culture on the province, which is reflected in its language, dresses, food, and also in cultural events yet it is unique its own charming way. Khyber Pakhtunkhwa is blessed with breathtaking beauty, pristine valleys, natural, mesmerizing crystal clear blue lakes, forests, and historical landmarks, some of which date back to the Gandhara civilization. In fact, KP was the centre of the ancient kingdom of Gandhara and still has some of its archaeological remains. KP is also a good reservoir of water dams and the PTI government is making efforts to turn five dams in Haripur, Kohat, Swabi, Nowshera, and Abbottabad into picnic spots for tourists and domestic travelers.
Location of Stunning Sajikot Waterfall
Sajikot Waterfall is located in Havelian Tehsil, Abbottabad District, Khyber Pakhtunkhwa, Pakistan. It is a popular tourist destination. It is about 27 kilometers away from Havelian and 40 kilometers from Abbottabad District. Sajikot waterfall distance from Islamabad is 77KM. Also, a newly constructed narrow road from Havelian to Sajikot allows the visitors to take their cars to the top of the beautiful waterfall.
Salient Features of Sajikot Waterfall
This waterfall is one of the most beautiful waterfalls in KPK province. The freshwater streams and breath-taking sites are an ideal location for hiking and camping activities. The tourists love to witness the beautiful waterfall because of its mesmerizing beauty and throng in scores every year. Swimming, hiking, trekking, and camping are a few activities that can be done here near the waterfall. The place is so relaxing that it refreshes the tourists in a way that cannot be achieved through any other means. Even after a long travel, when you reach here the tranquility here wards off the tiresomeness in a moment. One can easily fall in love with the natural beauty of Sajikot Waterfall.
This waterfall is a center of attraction for tourists because of its scenic landscape and peaceful atmosphere. The lush green grazing lands around and the streams with clear water enhance the beauty of the majestic waterfall. The waterfall is surrounded by perfectly textured mountains and looks stunning with a fascinating backdrop.
Staying Facilities in Sajikot Waterfall
If you are planning to visit Sajikot waterfall then the hotels here are quite in the number you can choose from with some modern facilities and moderate expense. You may consider staying in Hotel One Abbottabad, Tulip Guest Rooms, Ittihad Hotels, and Alaf Laila Guest House to name a few in the vicinity. The average cost for a day's stay at Hotel One Abbottabad is around 46 US Dollars and it may vary as per the hotel and facilities. You would have the luxury of local Pakhtun dishes along with some national and international cuisines as per your taste and demand.
Moreover, as a bonus package near Sajikot, there is another waterfall that is now capturing the heart of adventurers and travelers. This waterfall is Umbrella Waterfall. That falls almost in the same area and you do not really need to travel. This is equally beautiful and stunning with its greenish landscape and milky white water. Since it is not too far, so you must visit it along with the Sajikot waterfall. The overall area that stretches in between is full of natural scenery with lush green plains and some eye-catching architecture that cannot be found anywhere. So, for the ones with an interest in history, it is a place that has plenty to offer.
What You Need to Carry Along
Since it is in the Havelian district of Khyber Pakhtunkhwa, so does not ask for much to be carried along unlike the away from the city waterfalls. The road leading to it is quite easy and can be accessed by any kind of vehicle in use. Moreover, you do not need to carry extra hiking or trekking suits or boots along unlike the spots in Gilgit Baltistan that are on the mountainous terrains required that way. This is an easy to explore waterfall that requires you to just carry your water bottle along lest you feel dehydrated.
Lastly, natural sceneries like Sajikot waterfalls are rarely visited, so it is a once availing opportunity that must be preserved through the lens of the camera. Yes, a good resolution camera is a must that would make your trip to this fascinating spot an indelible experience for good. Imagine clicking a snap the milky waterfall in the backdrop. It is absolutely stunning and worth-clicking. Often times our memory do not support recalling our past and we are quick to forget but there photographs are always a reminder that we once visited this natural wonder. Wish you a good trip