Do you have this urge to check yourself out in the mirror several times a day? Then you are not alone as we all have these urges. This means mirrors play a very important role in our life and we should wisely select mirrors for our bedrooms. We usually feel stuck while buying mirrors and end up buying the basic type. It all will end today for we have some modern bedroom mirror design ideas that you can consider. These designs are simple yet elegant and are budget-friendly too. Moreover, all the ideas are based on bedroom style mirrors so that you can choose the latest living room interior designs the amazing mirrors styles.
Latest Bedroom Mirror Design Trends
Small Size Mirror Design
For people who are fond of smaller and compact room accessories, a mirror for small bedroom would be best. Vast bedrooms tend to accommodate small mirrors perfectly. You can either keep one tiny mirror at a time or you can have plenty of them in different shapes and sizes. A small mirror right above your sofa set is a great idea. Another way of representing small mirrors is to align them in a linear or horizontal manner. But, Whatever the manner is, these small mirrors have a huge impact on the look of your bedroom.
Full Length Mirror for Bedroom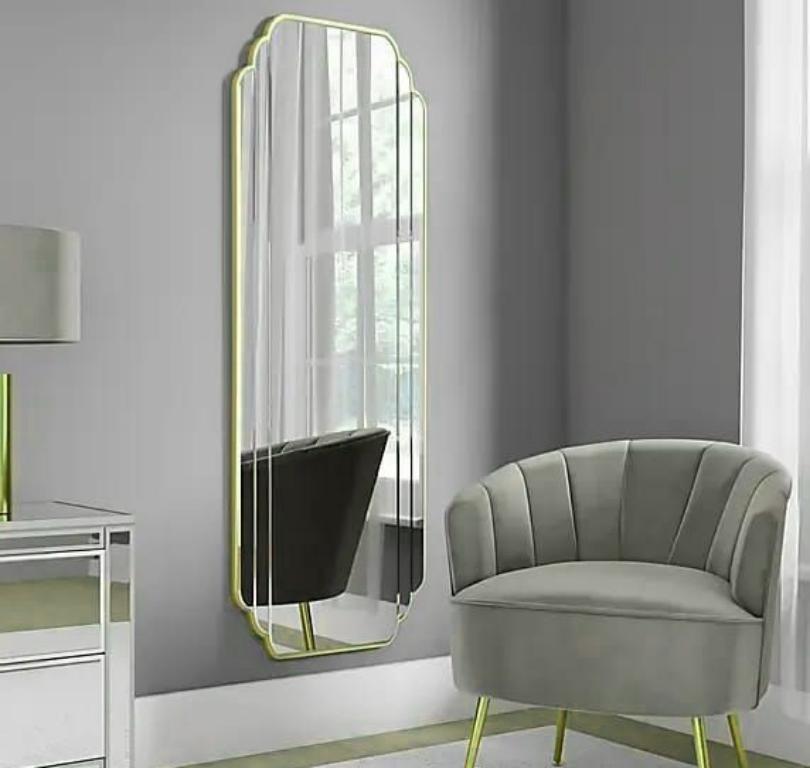 A full-length mirror is a heightened mirror that can reflect your head to toe image. In our opinion, your bedroom is incomplete without this mirror. Even if you have small mirrors in your bedroom this type is a must. You will need this mirror to enhance the look of your room and who doesn't love to have a full-body image. A long mirror for bedroom has so many colours and is best suited for the floor. This type of mirror is best for lady's Bedrooms as they have to try out different outfits on a daily basis.
Geometrical Bedroom Mirrors
Whether you love mathematics or not you would surely love geometrical mirrors for your bedroom. As we consider without creative paper wall hanging ideas your home is meaningless and needs some sort for decoration. The same as the Mirrors can make the wrong concepts correct. These have many designs and shapes plus sizes including round, rectangular, square and triangular mirrors. Big rectangular mirrors can give small rooms a very spacious look. A medium-sized square-shaped mirror can become a star of a medium sized bedroom. And, for big bedrooms, one or a group of small rectangular or round mirrors will do the deed. These sizes are only for references you can even mix and match the shapes and sizes as per your liking.
Bedroom Vanity Mirrors Designs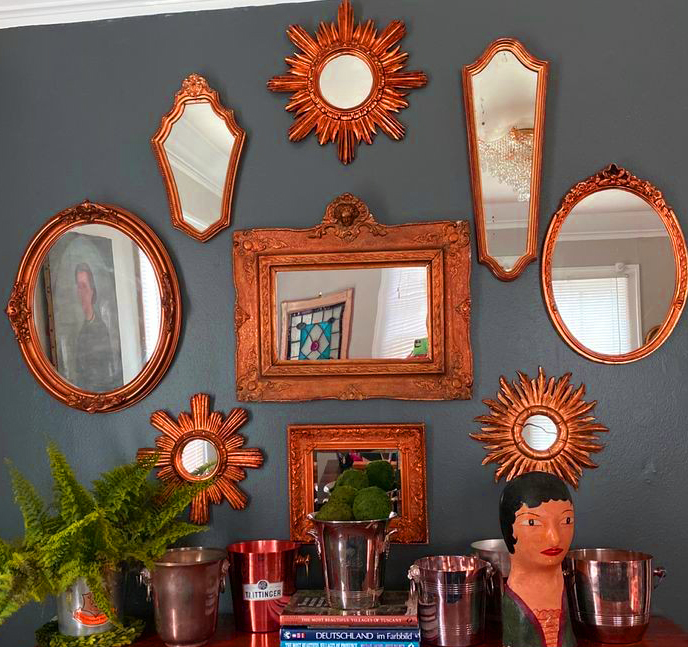 There are so many people in this modern world who have an eye for traditional and antique furniture. A bedroom with antique furniture will look good with antique design mirrors. You can get a beautiful bedroom vanity mirror with lights in different shops that specifically deal in such types of mirrors. A traditional mirror looks good when matched with the bedroom theme and it gives a very royal feel. Besides, a very bright and shimmery colour is associated with vintage mirrors that people mostly love. If your local shops don't deal in vintage mirrors you can find plenty online.
Bed Room Dressing Mirrors
One of the most popular dressing mirrors for bedroom is to have a dresser mirror. Bedrooms always have dressers and these dressers need mirrors. There are two ways you can style dresser mirrors. One way is to get a dresser with an inbuilt mirror. This way will save you the hassle of choosing a perfectly matched mirror for the dresser. The other way is to get a customised mirror for your dresser. But make sure to choose the one that nicely fits above the dresser and also compliments the style of it.
Large Standing Mirrors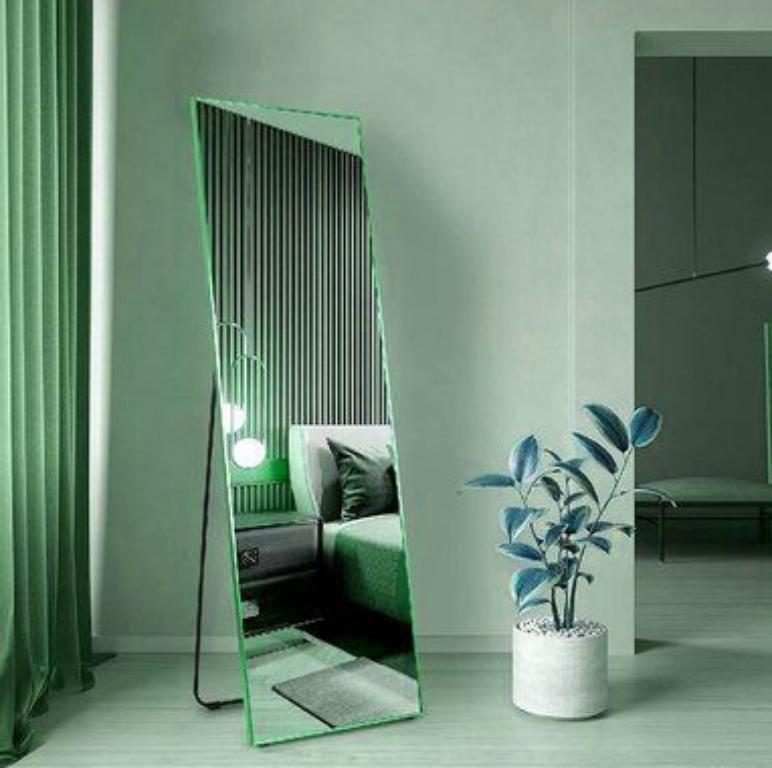 Standing mirrors are more like full-length mirrors but with a stand. They also look very cool when paired with LED lights. A large standing mirror for bedroom can be as long as a long length mirror and reflects the whole body. You can also find shorter versions of this mirror as they are available in different sizes. The thing that makes it different from a full length mirror is that it's movable and we can shift it to other corners as well. So if you are the one who likes to change your room setting frequently, and always looking for best colors for bedrooms with mirrors styles. These mirrors trends can be your best bet. Another style master bedroom mirror behind nightstand is outstanding nowadays for your room
Framed Circular Mirrors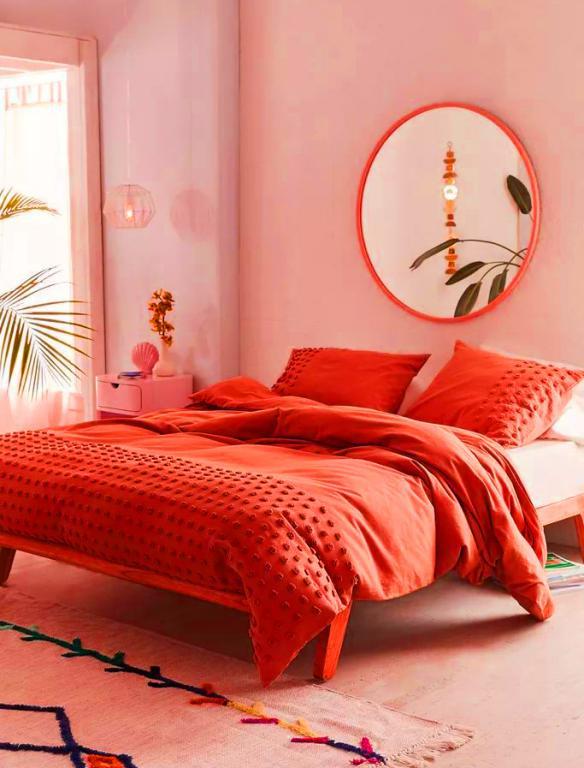 Circular and decorative wall mirrors for bedrooms having round shapes are the need of every modern bedroom. These mirrors often come with pretty frames. You can style these mirrors in so many ways. The first way is to place a beautiful round mirror above your dresser or study table. In this way, you can reach out to perfumes or cosmetics easily while viewing yourself in the mirror. The second way is to place one big round mirror with a decent frame just above your bed. This kind of setting looks very modern for a bedroom. Finally, you can mount a circle-shaped mirror that has a bold and large frame on the wall for a classy look.
Moon Shaped Mirrors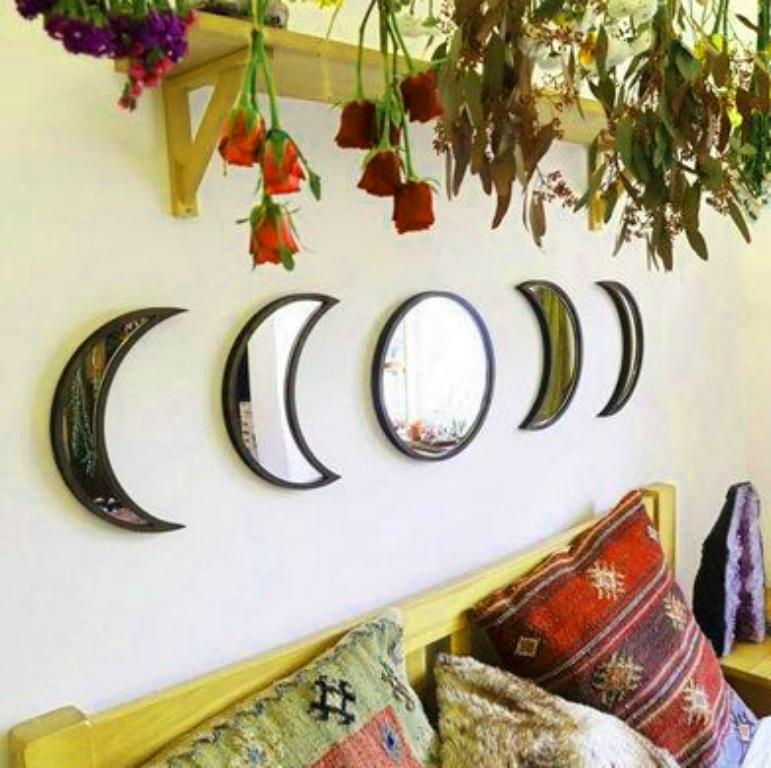 Different unique shapes of mirrors have become popular nowadays. One of these is the moon-shaped mirror which is becoming popular day by day. The mirror basically has several pieces and is shaped in different moon sizes. These mirrors look great on the wall opposite your bed and are styled in linear form. A wise quotation or a saying goes well below these moon-shaped mirrors.
Decorative Wall Mounted Mirrors
If your taste is all about decorative wall mirrors for bedroom then you should not buy full length or standing mirrors as they will not go well for you. There are many different styles of mounted mirrors that you can get for your room. Some of them are pieces of great artwork and representation of the amazing style. Moreover, you can get them in different shapes and patterns. These wall-mounted mirrors can be a lifesaver for the owners of small rooms as they do not own any space and also make your small bedroom look bigger. Finally, our list of latest bedroom mirrors design ends here. All these ideas will help you transform your room's boring vibe into an exciting one.