Your bedroom is the most important part of your room. So its decoration has to be perfect. Wall decoration is the trickiest part of any room decor. But it will become very easy for you after going through our top 10 wall design for bedroom ideas. These wall decor ideas are simple and stylish. Plus they all are suitable for any kind of bedroom so you can try them for your room as well.

Latest Cheap Decorating Ideas for Your Bedroom Walls
Round Mirrors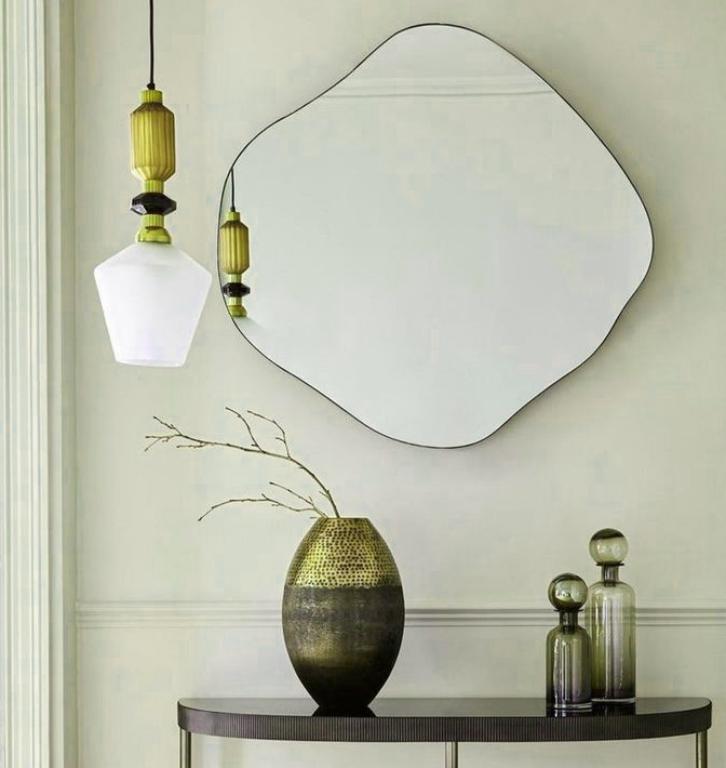 One of the best ways to decorate your bedroom is by mounting mirrors. You can get mirrors in many different shapes and sizes, just make sure to get pretty ones. One way is to mount geometric mirrors on the bedroom wall. These mirrors have circle, triangle, rectangular and square-shaped mirrors as well. Another way is to get a shimmery golden vintage mirror for your bedroom wall to get an antique look. round mirror for bedroom wall decor is most trendy nowadays. Moreover, moon-shaped mirrors are also trending for bedroom wall decoration.
Gallery Stickers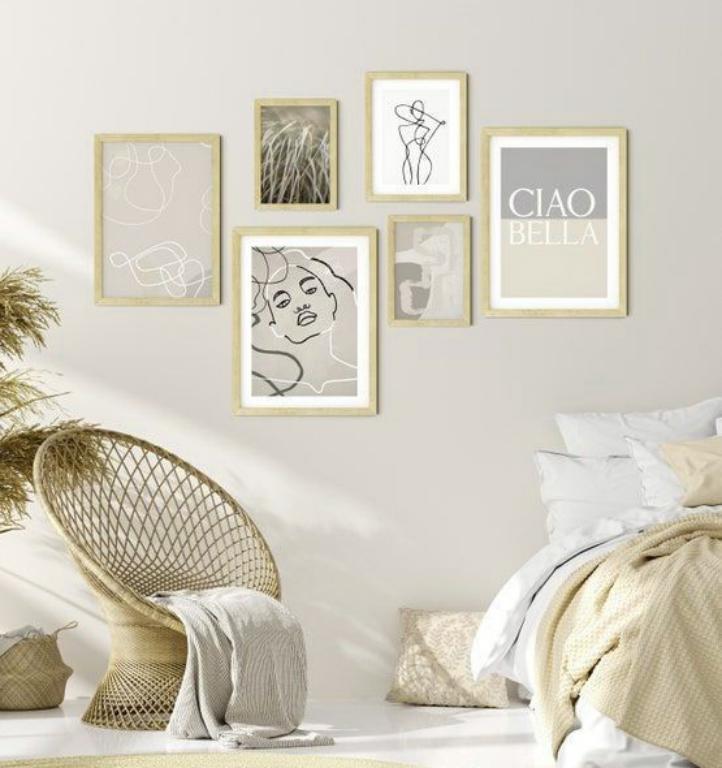 If you have decided to decorate your bedroom walls, we recommend you keep one wall for paintings and make it a gallery wall. Your gallery wall may have artwork inspired photos, you can add wall stickers for bedrooms from famous painters and you can also hang sceneries that you like. These photos can be of the same size and you can also mix and match sizes in a presentable way. Also, make sure to match the colour scheme of your room and the wall.
Canvas Painting Family Photos
Family can be the dearest thing for a human being. So it's good to dedicate one wall to your family photos and canvas painting ideas for the bedroom wal. For this, you need beautiful frames of different sizes and shapes. These frames can be used to display family photos on the walls. There are a lot of ways you can style these photos in. You can add your honeymoon photos or you can also display your memorable moments on the wall. Moreover, a complete family photograph will also look very good for bedroom wall decor.
Wall Painting Designs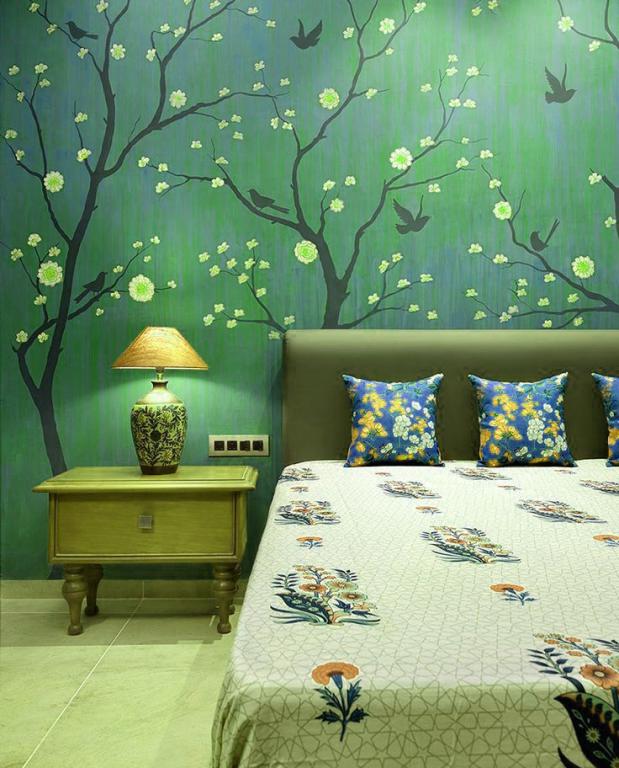 The wall painting designs for the bedroom add up to the overall decor. So you can try out different paints and prints for bedroom walls. It is here important to mention that your bedroom wallpaper must match the overall theme of the room. So if your room has a natural theme you can get a floral wallpaper for your bedroom. Besides, for minimal decor, your bedroom wall can have striped wallpaper with small prints. Plus, you can also go for an overall printed wall as per your liking.
Grand Headboards Back Wall Design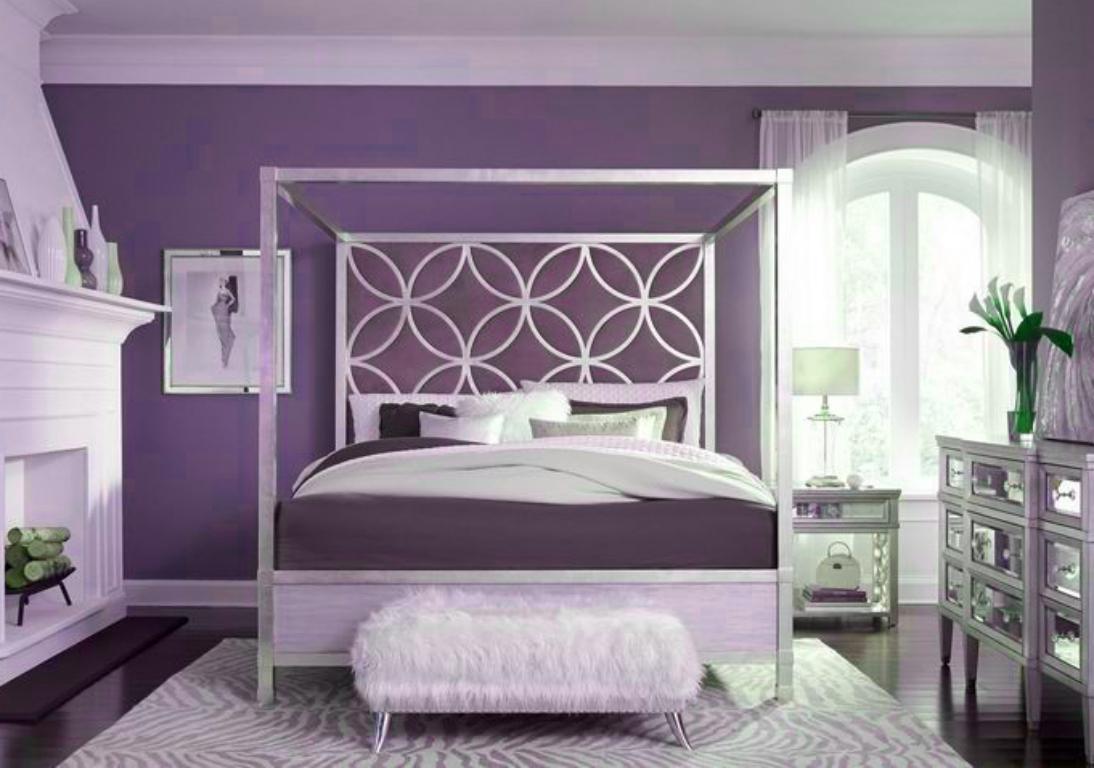 Bedroom back wall designs have always been important for styling a room. A grand Headboard can also be used for decorating your bedroom wall. A huge Headboard can cover almost half of the wall and can decorate it very well. Fancy room decor with fancy furniture will go well with a huge shimmery Velvet Headboard. In addition, you can get a custom-designed Headboard for your room because that way you will get to style it according to your own choice
Hang Your Initials
Displaying your Initials on the bedroom wall is one of the top 10 bedroom wall designs ideas. You can display your or the couple's initials on the wall opposite the bed. Similarly, you can mount them just above your bed and for a couple's Initials, you can place a heart between them. There are so many options available if you wish to buy initials for your names like glowing initials, shimmery ones, designer ones, floral ones and many more. You just have to select the one that you like for your room.
Bedroom Racks Wall
Storage racks on the bedroom wall look very modern. You can ask your room designer or any carpenter to get you some floating racks for the bedroom wall. You can use these racks for storage as well as decoration purposes. By filling them with souvenirs, decorating items or flower pots you can get a very stylish wall. Similarly, you can place photographs of your family or trips to fill these racks. A beautifully designed rack will compliment ideas for bedroom wall and can also be used for storing books if you are a book lover. So, use these racks as you wish and make sure to add a flower pot or two.
Bedroom Calligraphic Wall
Over the past few years, Calligraphic art has become very popular among the masses. So we are adding it to our list of bedroom wall decor ideas. This kind of decor is well suited for intellectuals and art lovers. If you have a liking for calligraphy you can get calligraphic paintings for your wall. In addition, you can hire a calligrapher to paint your wall with his skills. His talent will give your bedroom wall a very aesthetic look.
Sconces Wall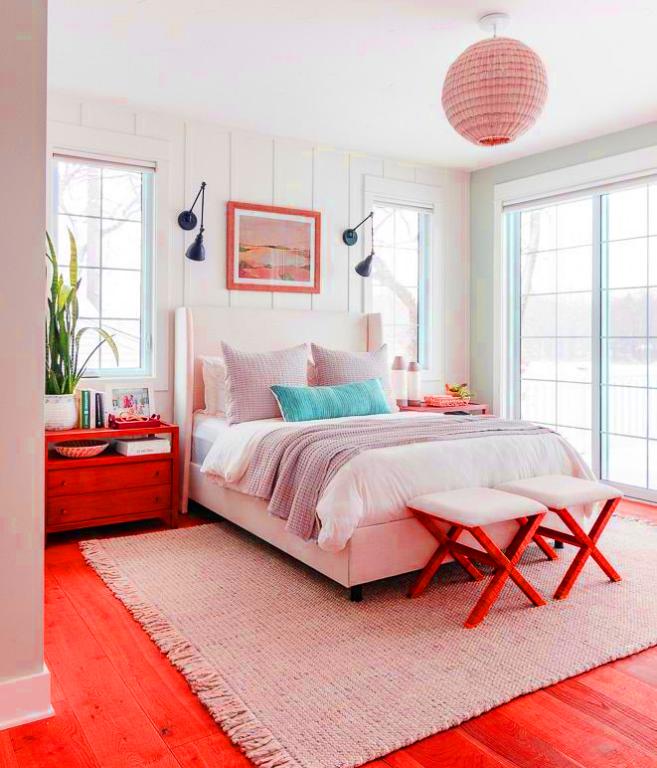 One of the most common and easy ways to decorate your bedroom wall is to install sconces. These sconces are lights or lamps you can mount on the wall. These multipurpose lamps will lighten up your bedroom and will also decorate the wall. Moreover, you can get sconces which allow you to place some flowers on them. Such sconces will give a very pretty look to your wall as flowers also go well with lights and sconces.
Display Handicrafts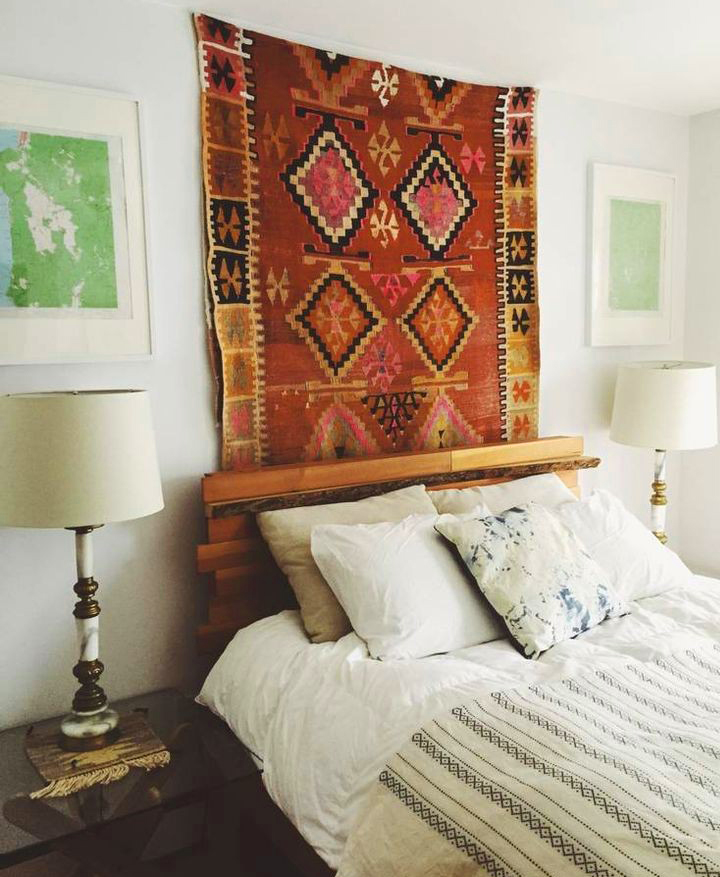 Your bedroom wall is the best place to display handicrafts as it will decorate the wall and will also promote art. On one hand, you can hang handmade rugs on the bedroom wall. And on the other hand, you can stick round plates based on artwork on the empty wall of your bedroom. Moreover, you can hang handmade cute little baskets on the wall. In our opinion, these handicrafts will transform your bedroom walls.
To wrap it up, these wall designs ideas for bedrooms are best for filling your empty walls and making them perfect.