What is the most important thing while decorating a bedroom? Mostly it's the furniture and the colour theme of the bedroom. When it comes to choosing a perfect colour theme for the bedroom, every person has his individual choice. Some people like to have a bright lively coloured bedroom. While some would like to keep it natural and neutral. And, some people would like their room to have a dark coloured theme. But Are dark Colours good for bedroom? every one think that. We think that if you want to live like a boss you should bedrooms be painted dark. If you do not know how to style your dark bedroom we have Top 5 Modern dark coloured bedroom ideas. These ideas will give you an insight into styling your dark bedroom without any hassle. Plus we have a lot of different colour ideas that you can easily try and apply.
Best Modern Small Dark Bedroom Ideas and Designs
Dark Coloured Furniture for Bedroom
Dark coloured furniture for bedroom represents enthusiasm and personality. Colours like black, hot red, navy blue and green are very popular for darker themes. These colours are the first ones that come to one's mind when we talk about dark coloured modern small bedroom furniture ideas. There are a lot of different ways where you can use darker shades as the main colour for your bedroom's furniture. Firstly, you have to buy lighter red furniture to match the darker walls and floor.
Secondly, you can get black wallpaper with a black bed but make sure to have white sheets and a darker comforter. In this way, you can make a combination of lighter and darker shades perfectly. Thirdly, you can get navy blue or dark green beds for your bedroom. For dark green the sheets should be olive green and for navy blue, you can have white sheets. Lastly, you can get a little lighter shade dresser like blue, green, red or black to match with the darker bed and other furniture. A combination of light and dark gives the best results because darker themes are all about mixing and matching different shades.
Dark Bedroom Flooring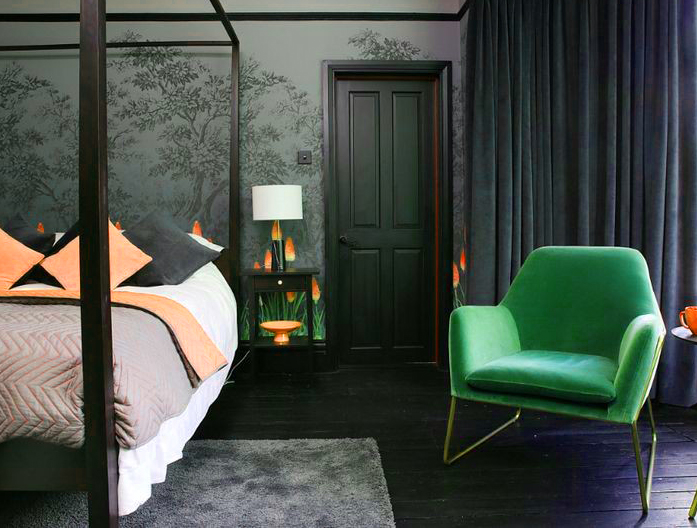 Flooring ideas for a dark theme is very important as it can overpower the entire colour scheme of the bedroom. There are plenty of ways you can incorporate dark coloured rugs and carpets in your bedroom. One way is to buy a grey rug for the darker coloured floor i.e if your floor is black you should go for a grey rug. On the other hand, if the floor is white or grey you can go for a black overall carpeted floor or you can also buy a black rug. Make sure to have lighter coloured like white sheets if you are going for black rugs or carpets.
Moreover, you should also pay attention to other darker options by keeping the carpet grey or olive green. In our opinion, a grey carpet or rug will go well with a dark green bedroom. Moreover, you can keep the walls bottle green or a little lighter than the bed's shade. If you go by this colour scheme your room will have the best dark theme and everyone will love it.
Paint Ideas for Dark Bedroom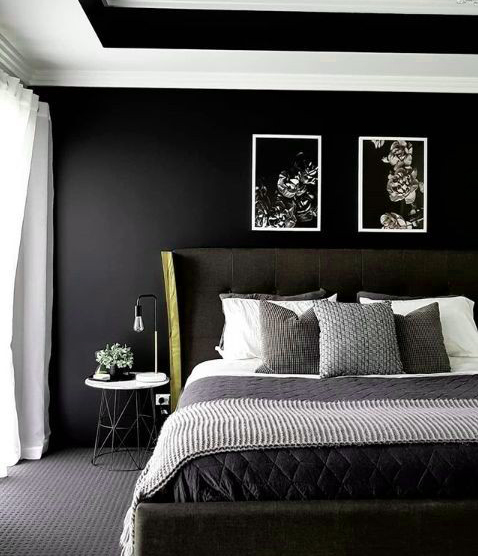 If you have planned the furniture and flooring for your bedroom and thnking about Modern Living Room Interior Design and are yet to decide which paint you should go for, do not worry. As when it comes to walls we have some amazing dark bedroom ideas for you. You can try out many different paints including maroon, green, navy blue, red, black and dark grey. A maroon paint will go well with lighter shaded furniture i.e a pinkish or red furnished bedroom can have maroon walls. Moreover, you can try out navy blue or green paints for your dark-themed bedroom. For navy blue paint there are two ways that you can use it. One way is to get the entire room painted blue and the other way is to paint a single wall blue or you can also go for a two-toned blue wall with white at the bottom.
When it comes to darker paints black is above all so you can also have black walls for your bedroom. We suggest you should not paint all the four walls jet black as it will not give you the desired look. Instead, go for darker shades of grey for one of the walls. This colour combination is very popular among dark wall lovers. It is pertinent here to mention that the ceiling for dark painted rooms must always be light coloured ( preferably white or off white).
Curtain Ideas for Dark Bedroom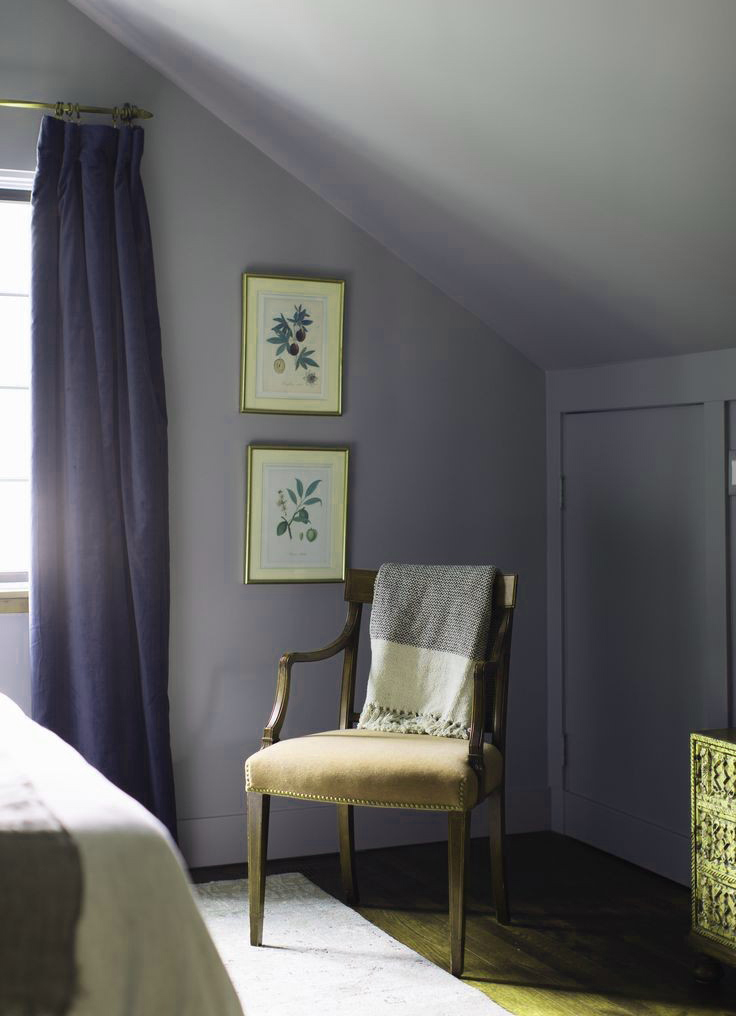 While furnishing and decorating a bedroom you must have a plan for the design and colour of your curtain. Because when mounted, these curtains are part of the walls and can easily make or break the entire theme of your bedroom. Best Decorating Ideas for Small Guest Bedroom may increase your home beauty. So we have gathered a useful tip that can help you get a perfect curtain for your dark bedroom. The key is to get two shades darker than the wall. For instance, if the wall is olive green or light brown then you would get a darker green and chocolate brown curtain respectively. The main reason for such alignment is to make your curtain stand out as a darker wall will not make your curtain pop out. So if you are up for a perfect dark-themed bedroom then you should go for even darker curtains.
Decoration Accessories for Dark Bedroom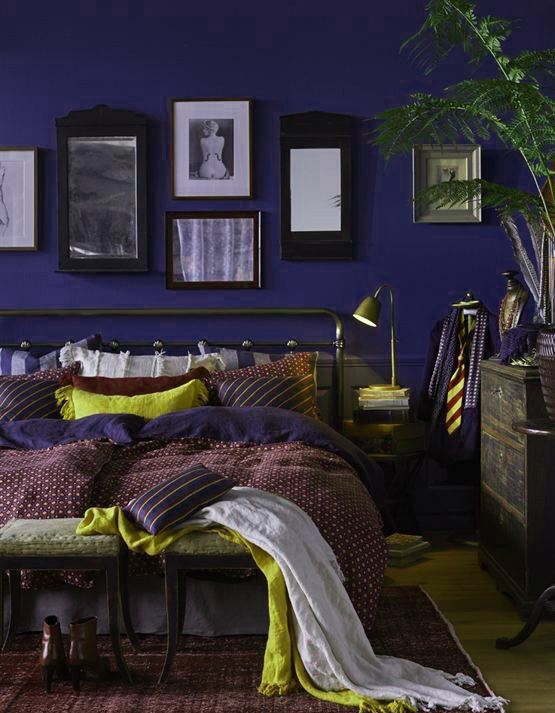 One of the most tricky parts of styling a dark bed is choosing its decoration accessories. But we are here to make it easier for you with our creative dark coloured bedroom ideas. In our opinion, for completely black walls, you can get a white lamp or paintings. This white and black combo will give an aesthetic vibe only. You can also try white roses for your entirely black bedroom. Besides, for shades like navy blue, dark green and maroon you can buy black decoration accessories like flowers vases, paintings and even lamps. This combination will also go well with the entire colour scheme and vibe.
Overall, the key to all the above mentioned different modern black bedroom ideas is to mix and match the right shades. And we assure you that you won't feel any complication in styling your dark bedroom once you are done reading our article.