Rented houses in Pakistan often have small bedrooms. These Small bedrooms seem congested and loaded with furniture. A small space with too much unnecessary and blindly placed furniture looks very uncomfortable. You may also find it impossible to find anything in its own place in such small rooms.
If you own a small bedroom and you don't know how to accommodate your furniture in it. So you have required the Latest Bed Designs for Modern Homes specially in Pakistan. This piece of writing is made for you. We have brought you some amazing small bedroom furniture ideas for Pakistan that you can use in your packed bedroom. These ideas will make your bedroom spacious yet very classy.
Small Bedroom Furniture Design Ideas in Pakistan
If you have a small bedroom you might always wonder how you can set all your furniture in this small room. The key is to use practical furniture that can serve multiple purposes. For instance, you can buy furniture like a bed, stools, and side tables with extra storage spaces to adjust your belongings.
These spaces can also accommodate your wardrobe and shoes and can save your room from a big cupboard. Moreover, you can buy compact and limited furniture and set them at corners to get more space. So, try to use all the corners and extra spaces to place your furniture and we assure you this trick will save you a lot of areas.
Neutral Coloured Furniture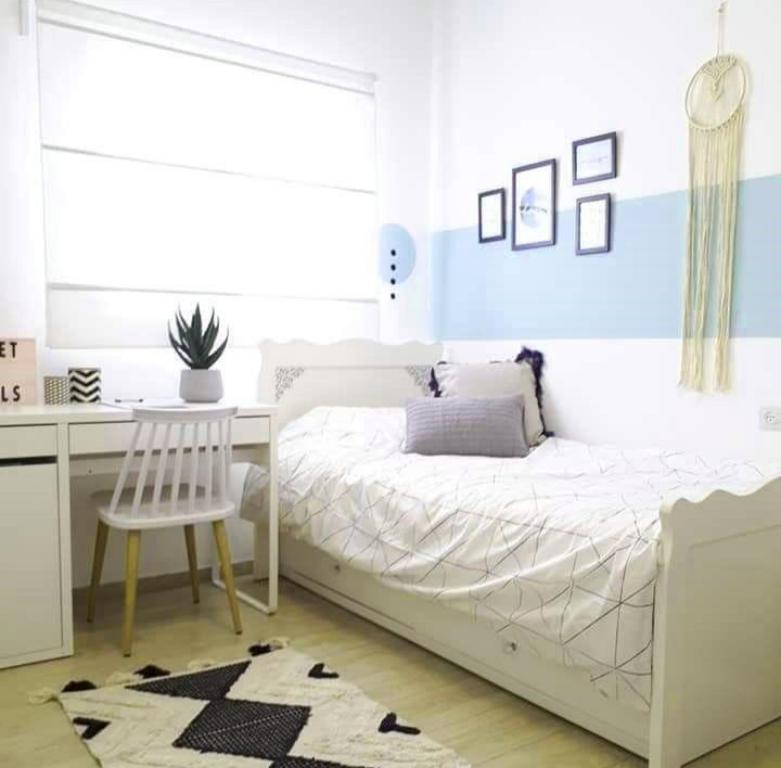 The colour scheme used for furniture can decide the look and vibe of your bedroom. You can either go for bold colours or can mix up Neutrals. Bold colours often give a perception of congestion so avoid buying bold coloured furniture. Neutral schemes of white, grey, beige and cream colours can make your bedroom look bigger and best bedroom furniture design for small spaces. You can use a mixture of 2 to 3 colours for furniture or you can also use one coloured furniture theme. These concepts are also very basic for Guest Bedroom Essentials. We usually recommend using white to hide the smaller spaces so you can try using white furniture for your small bedroom.
Corner Bed Ideas for Small Room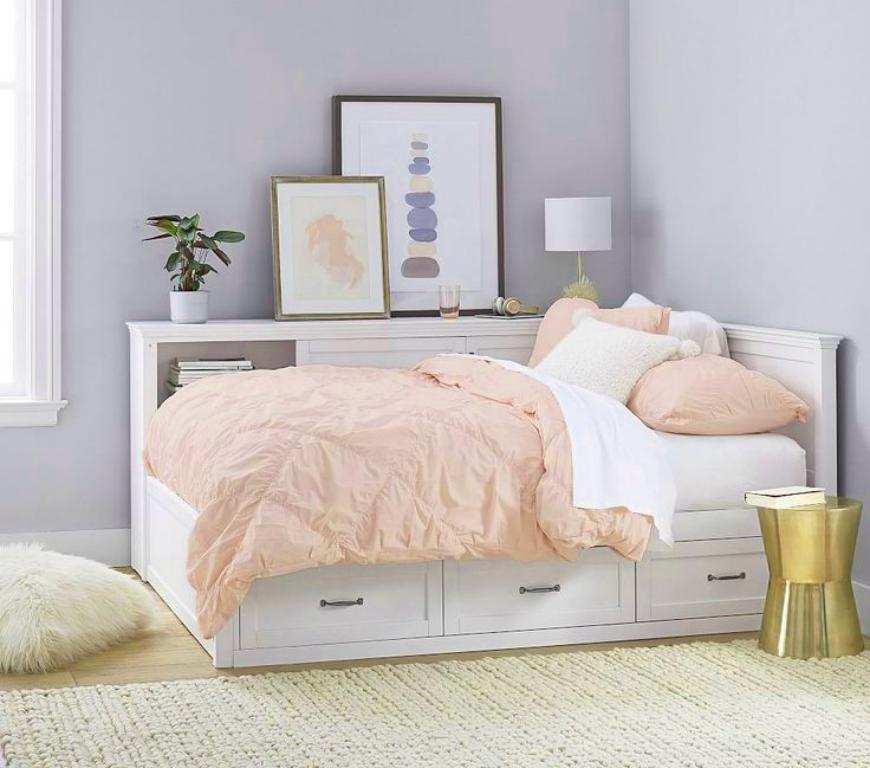 Beds cover the maximum space in any bedroom. So a standard sized bed might take up a lot of space in a smaller bedroom. In this case, a corner bed is a solution for you. You can use the corner space and place a compact-sized bed. You can get many different types of corner beds depending upon the space of your room. Which can enhance your bedroom furniture arrangements for small rooms without doing any extra effort.
Firstly, you can buy a corner bed with head shelves and an attached side table. Secondly, you can buy a corner bed with ample storage space below the bed. This space is for extra stuff that you can not keep outside due to less space. Lastly, you can place a simple corner bed opposite the bedroom door so that you can have all the free floor for yourself and not for your furniture.
Use Wall Lamps and Fairy lights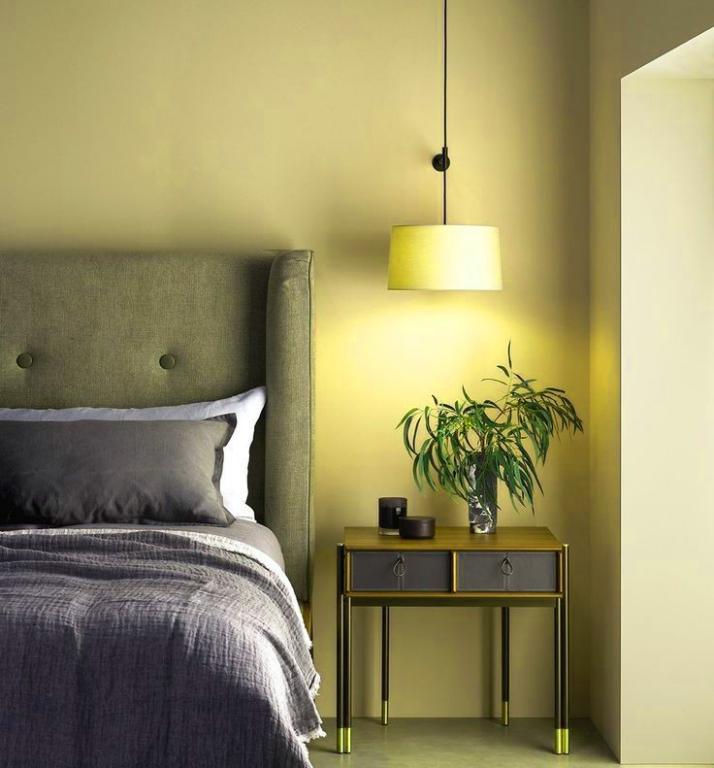 Using fairy lights or lamps attached to the wall is one of our favourite small bedroom furniture design ideas in Pakistan. Lamps mounted on the wall can free up a lot of space in your tiny bedroom. These are unique Tips For Space Management in Small Houses So choose small and beautiful wall lamps for your room instead of table lamps. Moreover, for dim or night lighting you can use fairy lights around the mirror or your bed as these lights are also above the floor and require less space.
Big Sized Mirrors
A small bedroom furniture choice is all about making people or yourself feel that your room has more space. For creating this illustration we have a tip for you. Try placing a big size mirror in the bedroom to create an illusion. The larger the mirror is, the more it will look like your room is not smaller. Moreover, you can mount round big sized mirrors on the wall to have some extra floor. We know mirrors are mounted on wall, which gives a creative idea for bedroom storage to manage furniture placement ideas in the tiny room.
Floating Racks/ Tables for Small Bedroom
One of the wisest ideas for small bedroom fitted furniture is to install floating furniture. This type of furniture looks cool and also gives your room a spacious feel. You can mount floating racks and place books or any other accessories you want. This type of rack is an essential part of small bedrooms however there are two kinds of floating racks for smaller bedrooms. So you can either go for low racks or higher racks or you can have both if you have a liking for racks. Moreover, you can also have floating tables to accommodate your belongings and in return, you can get a little more space for yourself.
Use Thin Curtains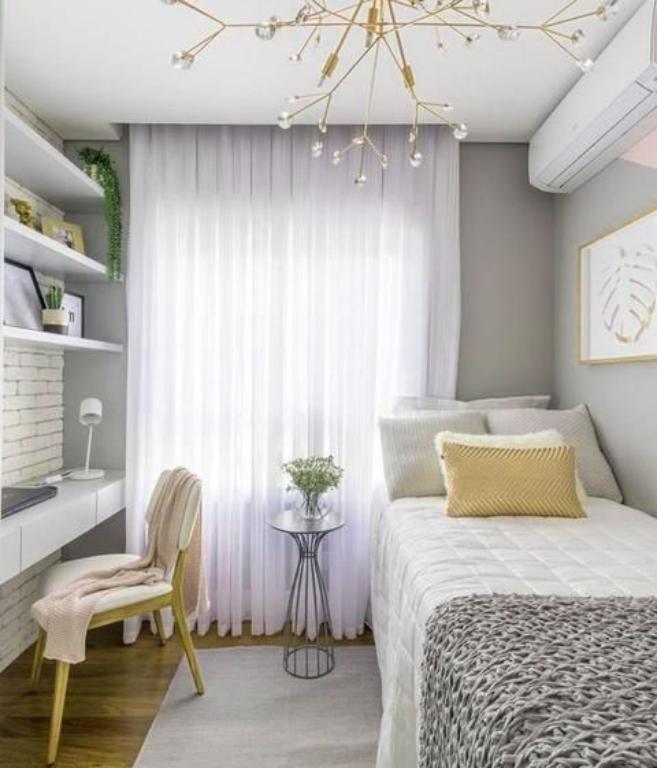 Curtains also play a vital role in shaping your bedroom so wisely select the stuff and colour of your small bedroom's curtain. Do not go for fancy frill curtains as they will take more space instead go for thin net curtains that are light in colour. An airy room looks bigger and this type of setting gives your room an airy vibe.
Folding Chairs and Sofas
If you are fond of having some extra seating in your bedroom but it's smaller, we have an idea for you. The idea is to sofas or chairs that have the inbuilt folding feature. A folding chair looks much better and more compact than a normal chair for a smaller bedroom. You can fold it after use and keep it in the corner. Moreover, small sofa for bedroom sitting area is also a spacious option as such sofas act as sofa cum beds. Plus, these extra seating options will make your room look bigger.
Small Bedroom Storage Ottoman
Small bedrooms often require dual-purpose furniture such as storage ottomans. These ottomans belong to Turkey and are used for seating as well as storage purposes. Because they are designed in such a way that after closing them one can use them as a chair or stool. This functionality makes it perfect for a small bedroom. You can order them in different sizes and colours so that they can match your bedroom theme.
In conclusion, you can make a small bedroom look bigger by just trying these incredible bedroom and space saving furniture ideas.