Small rooms are always associated with less storage space. So the key factor in styling a tiny room is to get as many storage spaces as you can. This sometimes becomes a little hectic while living in a small room. However, To maximise the storage in small bedrooms, many people prefer wall cabinets. Therefore, we have formulated a list of different Best Small Room wall cabinet designs. These cabinet designs are trendy and can also provide a vast space where you can keep your valuables. As we know the Best Interior Designs for Living Room are most demanded and people don't want to lose any more of their homes. So give our list a read and make your bedroom a little more spacious with these cabinet designs.
Modern Wall Cabinet Designs Ideas for Bedrooms on Budget
Sliding Mirror Wall Cabinet
Every bedroom needs a cabinet and a mirror so wouldn't it be better if you get them both together!
It surely will be great and you can get it easily in the form of a Sliding mirror wall cabinet. This kind of cabinet acts as a huge mirror when closed and if you open the sliding door you will have access to a vast cabinet where you can keep your clothes and even shoes. In addition, this sliding wall cabinet looks very decent and stylish for a Modern Bedroom.
High Hanging Wall Cabinet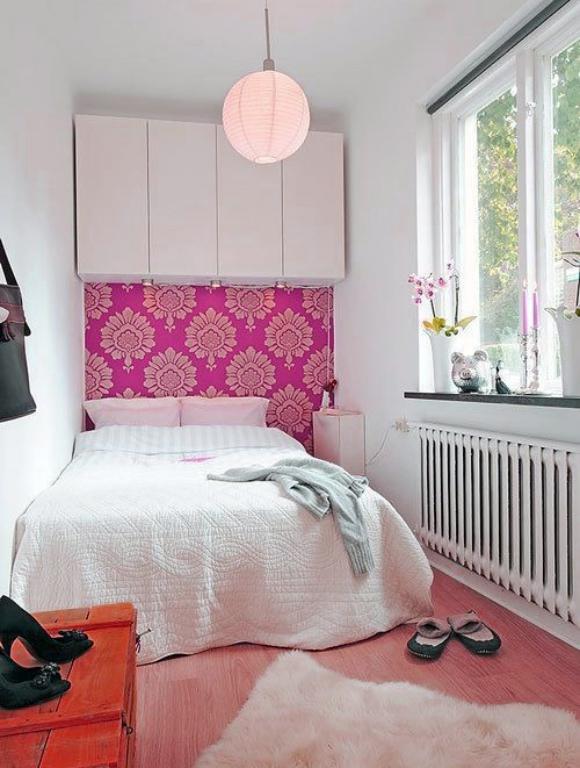 Getting wall cabinets for a small room can become a hassle as you have to cater for both, storage and design. Our hanging cabinet for bedrooms can save you from such hassle. If you are concerned about space for small items like documents, cosmetics etc. then you can go for High wall cabinets. These cabinets are a little higher than the floating cabinets and you can use these for keeping things that you do not require daily. And the best thing about these cabinets is that you can make use of the space below these cabinets. As per our suggestion, you should place your study table or your bed just below these cabinets.
Tv Wall Cabinet for Small Bedroom
Usually, our TV screen needs a stand and a mounting area that is in the middle of a wall, due to which the empty wall space around it becomes useless. However, your small room needs this extra space and you can get a TV space wall cabinets for your bedroom. In this way, you will be able to use the extra space and these stylish cabinets will decorate your TV area as well. If you are planning to mount a led in guest areas this mounted tv is best decoration ideas for small guest bedroom Similarly, you can also make an inbuilt cabinet that has space for a Tv screen. This type of cabinet design perfectly suits a modern and luxurious small bedroom.
Full Wall Mounted Cabinets
If you live in a tiny room and don't have ample storage spaces then we suggest you get a full wall mounted cabinets for bedroom. This cabinet covers the whole wall and is inbuilt so you do not have to worry about the congestion. You can either get an open cabinet or can also get doors for it. But we suggest you should go for a closed cabinet as it will give your room a clean look.
Corner Wall Cabinet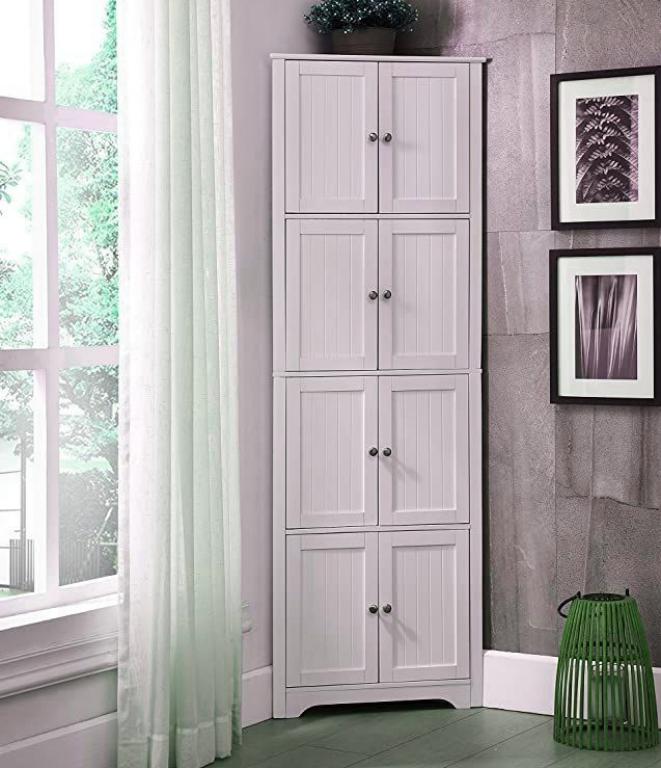 If you have already designed a tiny room you might know that mostly we go for corner furniture items for a small room like a corner bed and sofa. Similarly, you can get a corner cabinet for your little bedroom as it is the best way to save a lot of space in your room. This cabinet is long and has enough compartments to store your stuff. Plus, a uniquely designed corner cabinet has its style statement and can elevate your bedroom's status.
See Also:
Best Bedroom Wall Tiles Designs
Floating Wall Cabinets
Floating cabinets have always been lifesavers for small bedrooms. These cabinets do not touch the floor and in this way, they do not cover any floor space that a small room needs. Therefore, it is recommended that you ask your carpenter to make a few floating wall cabinets for small bedroom so that you can safely store extra items in them. Moreover, these cabinets are multi-functional and you can use them as a study table and can place your lamp and laptop on them. Besides, you can use it as a dresser table by mounting a mirror above it and in this way you will be able to achieve style using the minimal area.
Window Wall Cabinet
One of the best small bedroom wall cabinet design is to get a window wall cabinet. Your window wall always has enough space to accommodate cabinets. So ask your carpenter to use that empty wall and design decent cabinets for your bedroom wall. These cabinets will cover the entire wall and will give you all the space that you need for your little things. You can use these window cabinets for multiple purposes and the best one is to use them as a closet because your tiny bedroom can not afford to spare space for a closet so why not use these cabinets and live with ease.
See Also:
Beautiful Guest Bedroom Designs
B Fold Wall Cabinet
If you have an inbuilt wall cabinet and you do not want a traditional door for it because the door will occupy space when opened, we have a very suitable option for you. We suggest you get a b fold door for your wall cabinet. These types of bedroom wall cabinets with doors have become very popular in recent years and people have been getting it for their small bedroom cabinets.
Wall Mounted Storage Cupboards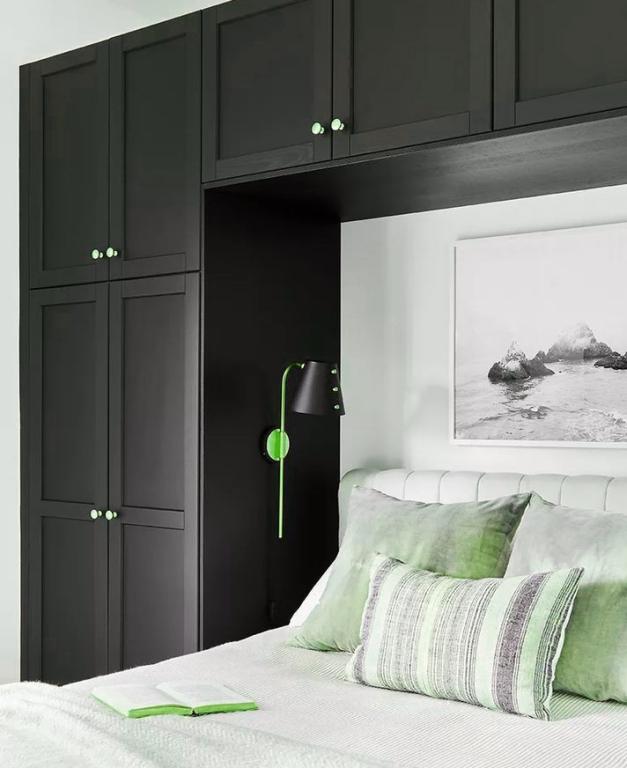 You might have always wanted to creatively use your bedroom wall and the best way of using that space is to use it for wall cabinets. A small room specifically needs a lot of space so you can use your bed's sidewall as a place to store your clothes or books. You can ask your interior designer or you yourself can also design cabinets for this empty wall. Nevertheless, these bed wall cabinets are a win-win for your small bedroom wall mounted storage cupboards as they look elegant and are also making use of the extra wall space.
Overall these elegant wall cabinet designs for small bedrooms are amazing and can buy your small room a lot of space.