Every homeowner wants a lovely outdoor area for their home. When we discuss outdoor spaces, these five terms, patio, balcony, deck, porch, and veranda, spring to mind. However, these terms appear to be interchangeable and similar, but they differ. In this post, we will explain the differences between patios, balconies, decks, porches, and verandas so that you can understand exactly what outdoor space you require. Furthermore, only when you thoroughly understand these areas can you design them according to their size and structure.
So, let's start locating the differences between patio, balcony, deck, porch, and veranda and help you decorate your outdoor area.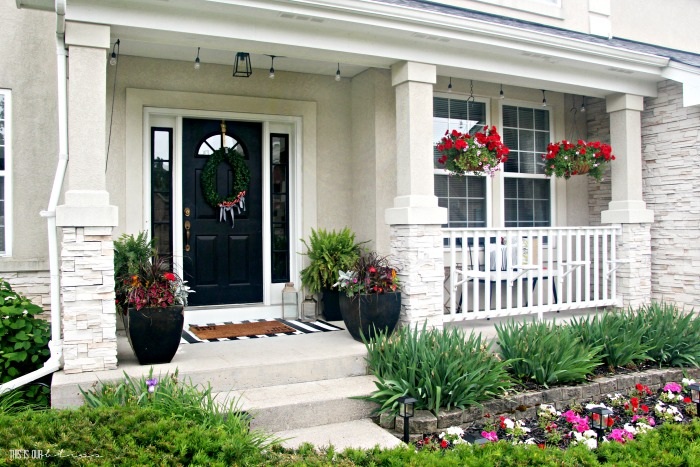 A Quick Summary
| | | | | | |
| --- | --- | --- | --- | --- | --- |
| DISTINCTIONS W.R.T | DECK | PORCH | BALCONY | PATIO | VERANDA |
| LOCATION | Decks may have multiple levels. | Usually located on the front side of the home | A projected area on the second floor of the building | Typically built at the back of the home | Usually constructed on the ground floor of the home |
| SIZE | The typical size between 300 and 400 square feet is. | It depends on the total area of your home | The balcony should measure at least 4 feet (depth) by 9 feet in size (length) | The patio is typically 16 by 18 feet. | Standard verandas are 1.8 to 2.5 wide |
| STRUCTURE | Squares and rectangles | It may be a rounded or small square in shape | Small square or extended rectangular area | Square or rectangle | Semicircle, rectangle, |
| CONSTRUCTING MATERIAL | Wood is used to construct decks. | A porch is typically constructed with concrete, bricks, and marble | Made of railings with marble flooring | Pavers comprised of concrete, brick, and stone | Typically made of timber and aluminium |
| PURPOSE | Serve as a gathering place, rooftop recreational area, etc. | Give protection against weather, serve as an informal sitting area | The balcony serves as a small place to enjoy tea time and fresh air in the evening | Serve as a dining or recreation area in upscale houses | Serve as an alternative entrance gate to the main building |
What Is A Deck?
A deck is a raised platform built at ground level to provide outdoor living space. The term deck usually refers to the flooring material only. Deck building materials include lumber, composite wood, plastic, and vinyl-coated steel. The majority of Pakistani homes don't have decks. However, some northern regions have decks built on their home as outdoor areas. They serve as an outside seating area, a place to relax, a venue for planning outdoor gatherings, and a place to hold a barbeque or dinner party. Adding plants, decorative lights, and cozy outdoor curved furniture may transform the deck into your private outdoor paradise.
Read More: Hottest Interior Design Trends 2023 You Genuinely Love
Regarding the kinds of decks, platform or single-level decks do not have a floor but offer enough space for benches, tables, and chairs. These are mostly found on high-rise apartment buildings or commercial properties. On the other hand, multi-leveled decks typically have railings and require a staircase for access between levels. Some examples include wooden ladders attached to the exterior wall leading up to another tier, while others use spiral staircases leading from one level up to another.
What Is A Porch?
A porch is a covered exterior passage to the entrance of a building. It may be used as an extension of living space or as an outdoor living area where family and guests can congregate on leisurely occasions. While a porch is not required to be screened, most residents prefer to have one to shield their home from inclement weather. If a porch is entirely covered, it is considered a living room addition and has a different entryway from the main building.
You can use the porch of your home as a casual lounge to relax and enjoy the weather, in addition to providing your house shelter from extreme weather. Moreover, you can decorate this outside area with a hammock, a small coffee table, and a few curved chairs. To further improve the appeal of your home, you can add some potted plants, hanging track lighting, and some antique decorative items.
What Is A Veranda?
A veranda is a covered porch that extends from a building or larger structure. Two columns often flank it. A veranda may also be referred to as a covered porch or portico. It is utilized to provide passage to the front or the rear entrance of the building and is often joined to the main building from more than one side. In simple words, you can take the veranda as an extra space used to serve as an alternative entrance to the main building or the outdoor roofed gallery or storage area.
Read More: Best Plant for Terrace Garden Ideas
A veranda is typically built with vinyl, hybrid wood, marble tiles, and treated materials because it is frequently exposed to adverse weather conditions, including rain and intense sunshine. You can decorate the veranda in many ways, i.e., place some comfy tables and chairs, hang colorful lanterns and potted plants, etc.
Difference Between Porch And Veranda
Although the terms porch and veranda are sometimes used similarly, they have some distinct features. While a porch is typically located on one side of a building, a veranda is usually found all around or at the back of a house. Moreover, a porch can be enclosed or open, but a veranda is an enclosed outdoor space.
What Is Meant By The Balcony?
A balcony is a structure that extends from a building's upper floor. Usually, it has air access on all sides. These elevated buildings emerge from the exterior of the main building. Additionally, grills or concrete railings are used to enclose balconies. It's also crucial to understand that your house can have many balconies if it is a multi-story building. There are two types of balconies: solid balustrades and open railings with panoramic views. Solid balustrade provides safety for anyone below but might not have as nice of a view. Open-railing balconies can have views of your whole neighborhood if you live in a tall apartment building.
Read More: 7 Unique Textured Wall Design Ideas
Balconies are a great way to showcase your taste regarding home decor. You can decorate your balcony by choosing different pieces such as chairs, sofas, potted plants or flowers (depending on the season), wall hangings, framed pictures, a table, or even a barbeque grill! Most importantly, you can install beautiful railings on your balcony. There are many railing design ideas on the internet. You can choose the best according to your needs.
Balcony Vs Veranda
The terms balcony and veranda are often used interchangeably, but there is a distinct difference between them. A balcony is an external platform projecting from a building's upper floor. A veranda is a covered porch wrapped around all or part of a house or building, usually at ground level. Another difference between the two is that balconies are typically smaller than verandas.
Porch Vs Balcony
The difference between porches and balconies is that porches are typically located at ground level. It means that you can step out on a porch without any stairs. Balconies are found on the second floor of a home. Moreover, porches can be covered or open, but balconies are always open.
Balcony Vs Deck
Balconies and decks are similar because they both offer an outdoor living area. The main difference is that a balcony is typically a projected structure from the exterior wall of a building or house with no different flooring. In contrast, decks are constructed as elevated structures on the ground floor of the building. Moreover, balconies cannot be at the ground level of the home.
Read More: Modern Outdoor Lights Design Ideas in 2023
What Is A Patio?
A patio is an outdoor space attached to or part of a house. It can be paved or made of any other hard material like brick, stone or wood. You can decorate it with plants or flowers, seating for furniture, a paved surface to stand on, and an overhead covering. A fence or wall may partly enclose a patio.
Patio Vs Veranda
A veranda is a structure on a house that is enclosed with windows and screens. A Patio is an outdoor area for relaxing or entertaining outside your home. It typically has a hard surface, such as stone pavers or wood slats.
Patio Vs Porch
A porch and a patio are commonly confused in the minds of people. Their locations are the main distinction between the two. To be considered a porch, it must be an outdoor space located at ground level at the front of the house, while patios typically have some structure separating them from other parts of the yard.
Final Thoughts
You may have known the differences between a patio, deck, porch, balcony, and veranda. The next time you plan on constructing your house, choose wisely which outdoor space you need, as they all serve different purposes and have different architectural measurements.