A bunk bed is a kind of double bed, where one bed is stacked above the other one. The purpose of such a type of bed is to save space. Bunk beds are best for rooms with less area. These beds make the small room look spacious and are also multi-functional. A well-decorated bunk bed looks very pretty and if you are also planning to decorate your bunk bed we have some bunk bed decoration ideas for small rooms that you can try. These ideas will make your bunk bed look beautiful and stylish. Plus we made sure to state ideas that also promote comfort. So do not delay and decorate your bunk beds with these comfortable and trendy hacks and enjoy a peaceful sleep.
Best Bunk Bedroom Ideas for Small Rooms in 2022
Light up the Bunk Bed
Illumination plays a very important role in bunk bed decoration. Your bunk bed can be beautifully decorated with lights if you like your bed to glow. Firstly, you can place a cute side lamp beside the bunk bed. The lamp should not be very fancy as bunk beds are not fancy rather they are cute. So a cute and nice-looking lamp will go well with the bunk bed. Secondly, you can put LED lights on the ceiling or walls adjacent to your bunk bed. These lights will produce a very dreamy glow after the lights are out at night. Lastly, the most common way is to hang fairy lights on the bed and let them glow at night.
See More
Attached Shelves for Bunk Bed Decor

Shelves or side tables are always present beside your bed. Bunk beds however can not have side tables for the upper portion. Yet, you can get attached Shelves for your bunk bed. These shelves are easily available in the market and are of different types. You can get any type of shelf you want ranging from wooden to iron shelves. Basically, you can attach them to your bunk bed and can decorate it by using flower pots, family photos or a lamp. Moreover, if you are a teenager you can keep plush toys or any cute teddy on the shelf. These custom made shelves are suitable for small rooms as they occupy no space and are floating shelves.
Bright Coloured Bunk Bed Sheets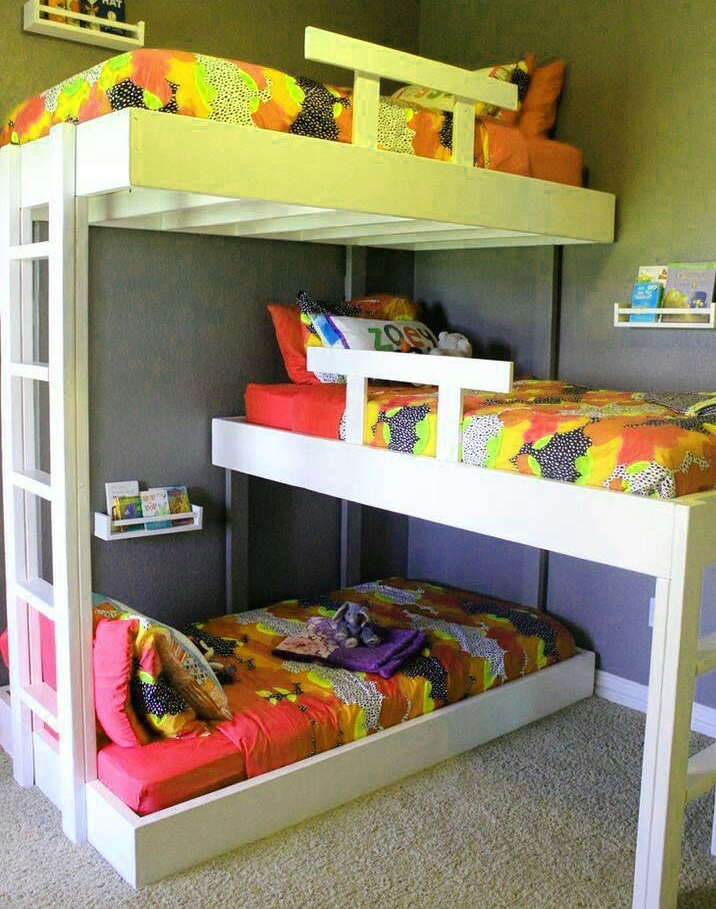 If you are tired of all the traditional decoration ideas and want to keep things simple, we have another idea for you. We suggest you experiment with your bunk bed sheet and get a bold or a lively coloured bed sheet. Moreover, you can go for printed sheets with simple comforters as well. Such types of bold colours and prints will give your bunk bed a lively theme and you will love sleeping in it. You can also get matching heart-shaped pillows for the bunk bed as they will look very pretty.
See More
Best Scandinavian Bedroom Furniture Designs
Bunk Bed Canopy Decor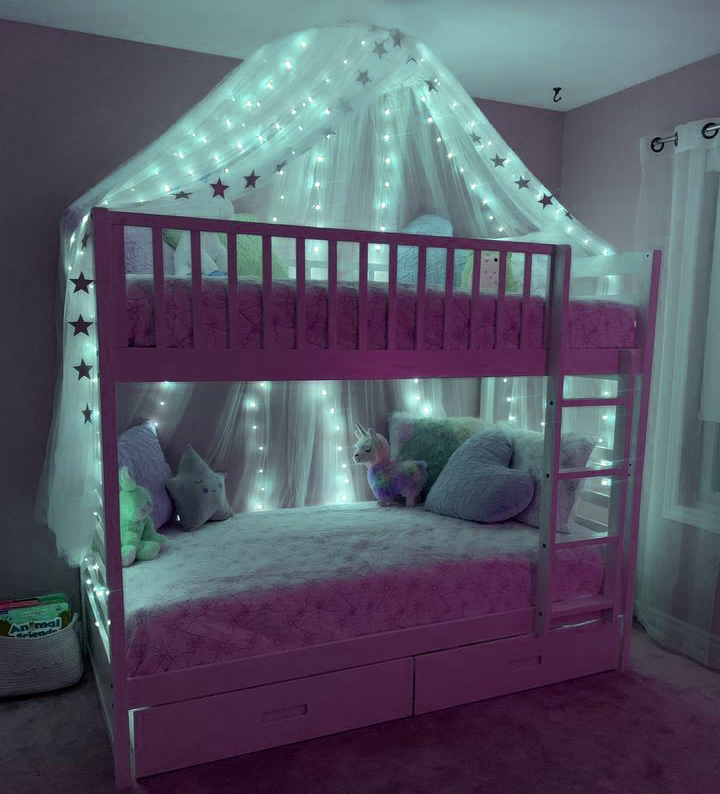 Getting your bunk bed decorated can be a tricky task but don't worry these small room bunk beds ideas will have your back. One of these amazing ideas is to decorate your bunk bed with a canopy. A canopy is a net type fabric that covers the top of your bed. Canopies have always been used for bunk bed decorations as they look very pretty. You should also get a light coloured net canopy for your bunk bed. In addition, you can also try thin net curtains and hang them on the sides of your bunk bed. These curtains will also give your bunk bed the look it deserves.
Paste or Hang Photos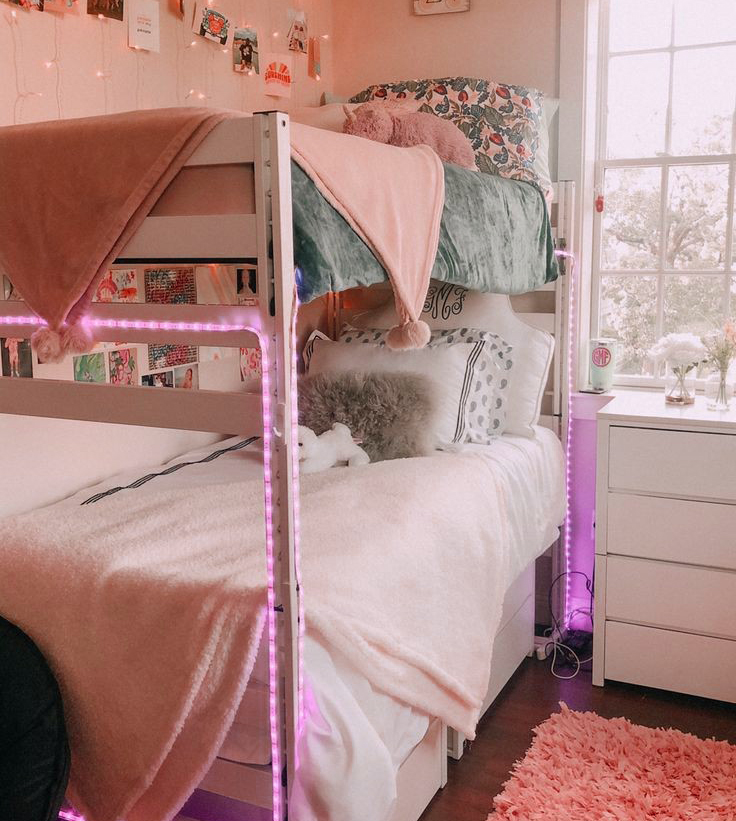 Personal or family photos are a unique way to decorate your bunk bed and for this you need to print your favourite photos. You can hang them using a thread or you can also paste them on the wall. Moreover, cute family photos in beautiful frames also look good on the bunk bed wall. Besides, you can buy different natural sceneries or artworks of famous artists and hang them at your bedside. You can also keep them on the side shelf but they look good on the wall too. Plus, you can hang handmade paintings and give your bunk bed a very unique look.
See More
Bed wit Motivational Quotes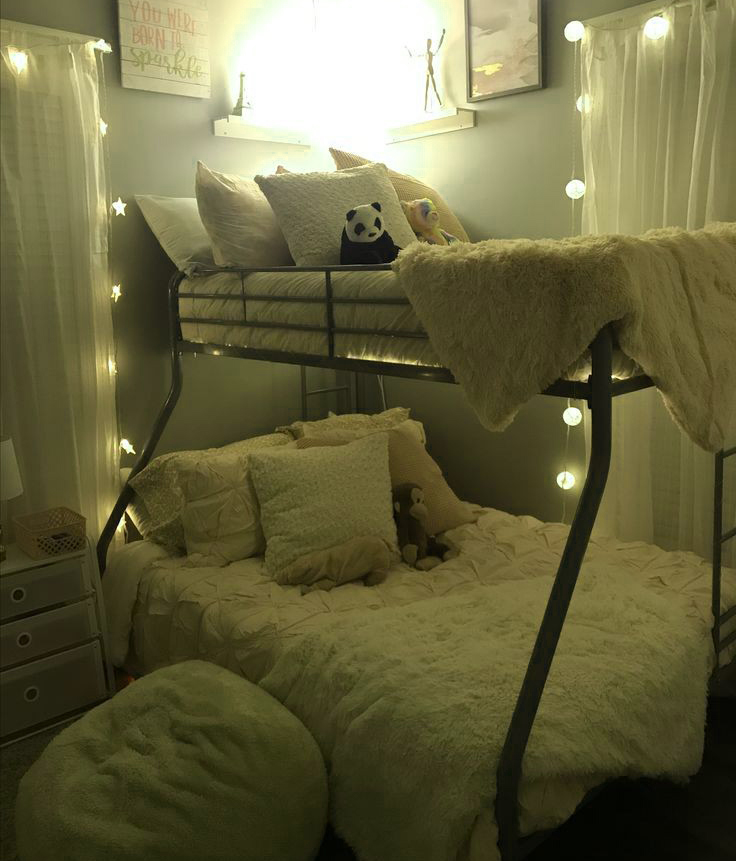 Your bunk bed is where you sleep every day so the space should spread positivity and optimism. For this, you can get your favourite saying printed on paper or you can also get it painted on the wall attached to your bunk bed. Another way is to get posters of wise sayings and motivational quotes. You can paste these posters on the bunk bed wall from where you can see them while laying on your bed. These posters will look very motivational and will also give your bunk bed a cool look.
Get Unique Stairs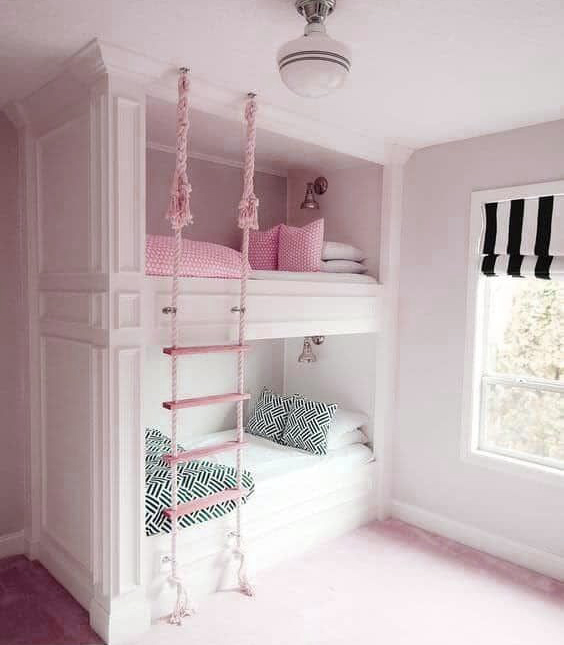 One of the most important parts of any bunk bed is its stairs. The person using the upper portion has to use it every day. So these stairs have to be strong and should also be presentable. There are so many ways that you can style these stairs. One way is to get the stairs customised. In this way, you will have the liberty in designing them as per your wishes. For this, you have many options including, wide stairs, short ones, and storage stairs. Another way is to decorate the existing stairs with lights. These glowing stairs will look very nice in the dark and will also lead you to the bunk bed. Moreover, you can get roped stairs to enhance and compliment the look of your bunk bed. These roped stairs are becoming very popular for bunk beds so you can also try them for yours.
So here we wish to end our list of bunk bed decor ideas for small rooms. We hope that these ideas make your bunk beds attractive and make your small room look bigger.