Are you bored of your dull and simple king-sized bed? Do you think something is missing and your bed needs some change? If yes then get ready to get a perfect Headboard for your king bed. A Headboard will give your bed a complete look and will also make it more comfortable. However, it might get a little tricky for you to get the perfect Headboard that your bed needs. We are here to make this choice easier for you as we have a list of super creative king bed Headboard ideas. These ideas are best in terms of style and comfort so give them a read and buy a unique Headboard.
Best Headboard Ideas for King Bed
Metal Headboard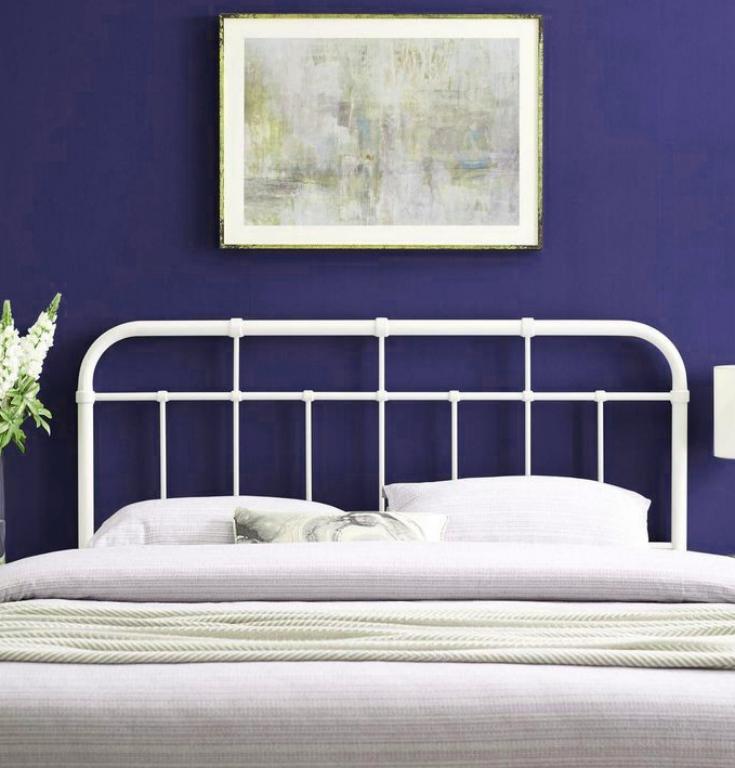 There are many different types of Headboard that you can consider and one of them is a metal Headboard for a king-sized bed. This can either be custom made or you can get it ready made with your metal bed. This metal Headboard will go well with your king-sized bed if you wisely match the colours. In our opinion, a black metal Headboard will look very nice with a full white bed as this contrast will make it stand out.
See Also
Small Guest Bedroom Design on a Budget
Rustic Headboard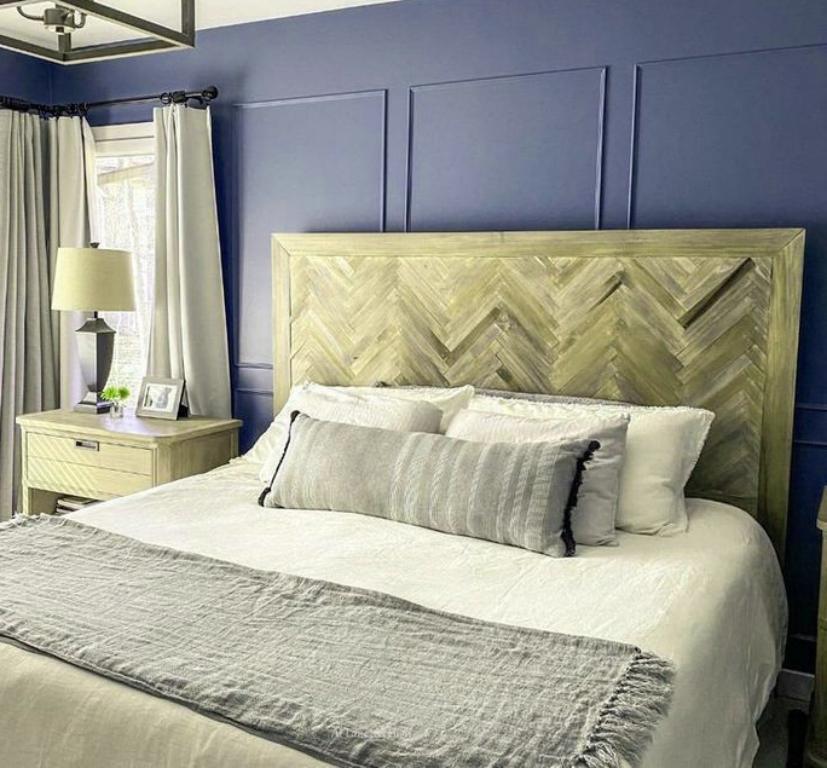 Your Headboard is an important part of your bed and it has to follow the theme of your bedroom. If your bedroom has a rustic theme then your Headboard should also compliment the theme. Therefore, a rustic wooden Headboard will be enough for a rustic themed bed. A dark brown plain Headboard in our opinion is best suited for this kind of bedroom. However, if you are not a plain Headboard person you can decorate this rustic Headboard with lights or you can also get a rustic Headboard that reflects your style.
Velvet Headboard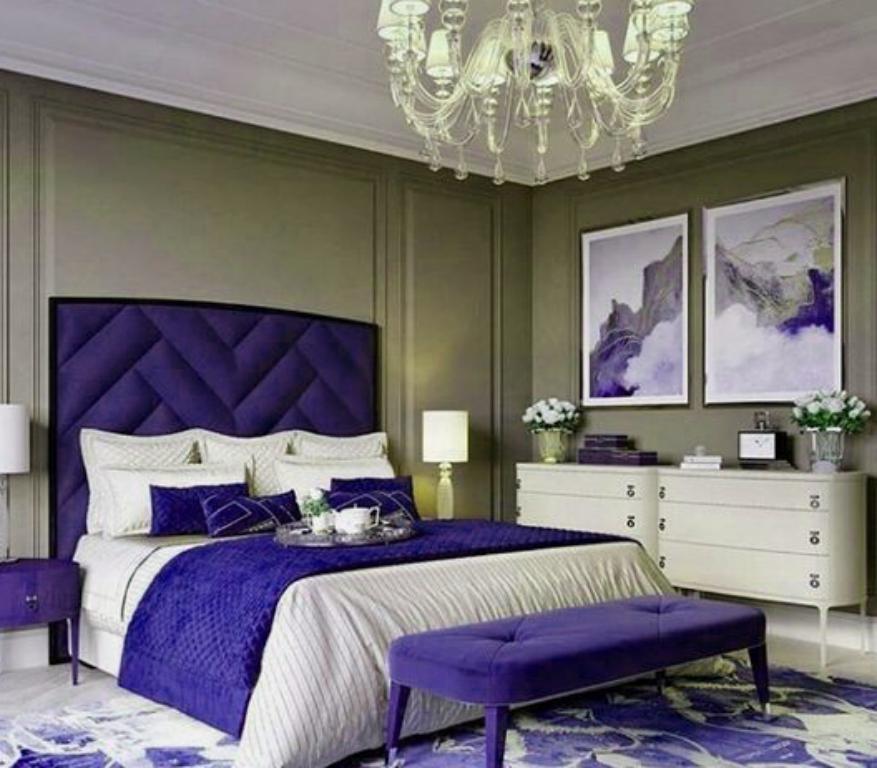 When it comes to deciding on a Headboard material for your bed, velvet is one of the best materials that you can try. A velvet Headboard can be of many colours including royal blue, green, maroon and black. It is popular among furniture designers as it gives a very royal look to any bed plus the soft velvety feel makes it perfect for a headrest. Moreover, if you do not want to go for a traditional plain velvet Headboard, there are plenty of different designs for you including circular velvet Headboards, square Headboards and embroidered velvet Headboards.
Curved Stylish Headboard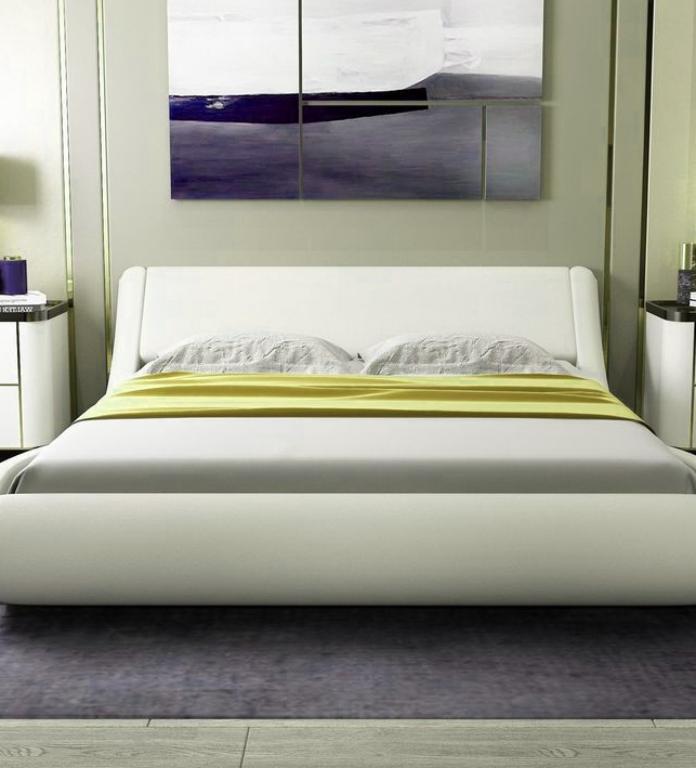 Curved furniture has always been trendy, for room design. So why not go for a curved Headboard that looks cool and comfy? Our amazing king bed Headboard designs suggest you go for a curved Headboard as it is the most unique kinds of Headboard nowadays and will also enhance the look of your bed. Such types of Headboards look very decent in neutral colours so try to go for a white or beige Curved Headboard. However, if it's difficult for you to find a curved Headboard in your local furniture shop then you can ask them to custom design it for you.
See Also
Best Wall Cabinet Designs for Small Bedroom
Bohemian Headboard for a King Bed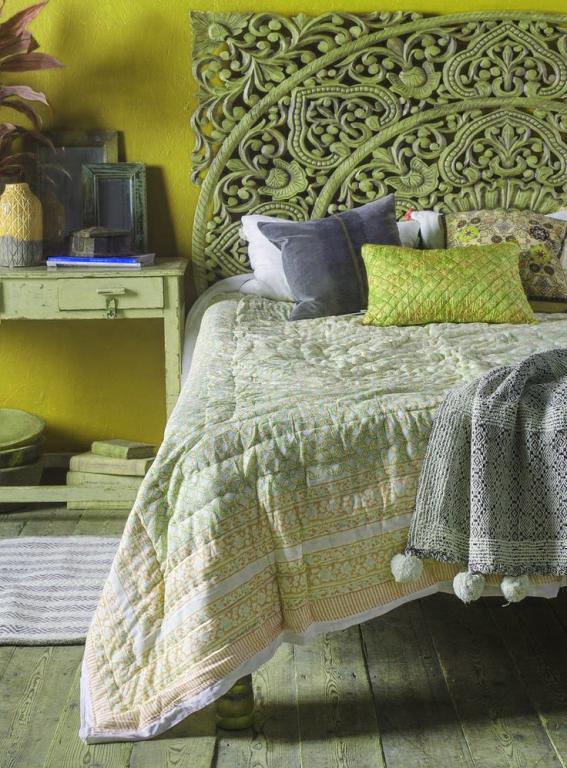 Selecting a Headboard for a king-sized bed is a huge task that needs creative thinking and a little knowledge of interior design. If you are new to designing you can rely on our best king sized Headboard ideas as they are suitable for beginners as well. So if you are a newbie in bedroom styling a simple way for you is to get a bohemian styled Headboard. A professional carved bohemian styled Headboard can look great with any type of bed. Therefore, you can get it for your bed as well without a doubt. Moreover, a traditional bohemian themed Headboard is not very expensive and looks elegant when placed in a simple themed bedroom.
Name Headboard for a Bed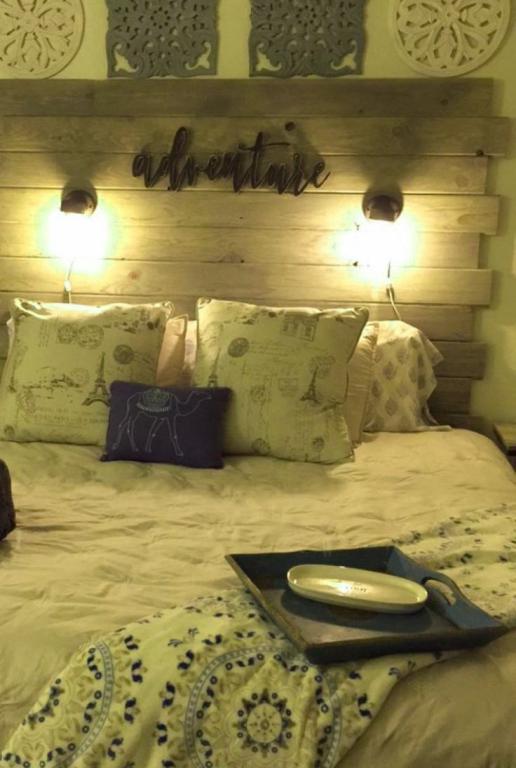 We often neglect Headboards and focus mainly on designing and decorating the bed, but you can do a lot by paying extra attention to the selection of a unique Headboard. Because a stylish Headboard captures more attention than a stylish bed. In order to have a uniquely styled Headboard, we recommend you get a name Headboard for your bed. It has your name engraved on it which means you have to get it custom-designed for you. This type of Headboard is usually popular among younger generations but adults can also have it. However, if you are an adult and you do not want your name on the headboard you can simply ask the designer to carve a quotation for you. Moreover, this type of Headboard looks very creative when paired with a decent bed set.
See Also
IKEA Furniture Room Planner for Living Room
Storage Headboards for King bed
One of the most purposeful homemade headboard ideas cheap for bed is the storage Headboard. A storage Headboard usually works best for tiny rooms as they provide vast storage space. This Headboard looks very elegant if you decorate it with appropriate decoration items. Firstly, you can keep flower pots or your family photos to decorate the storage space. Secondly, a small lamp or electric candle will go very well with this type of storage Headboard. Lastly, you can use this storage as a library and utilize it for keeping your favourite books.
King Bed Panelled Headboard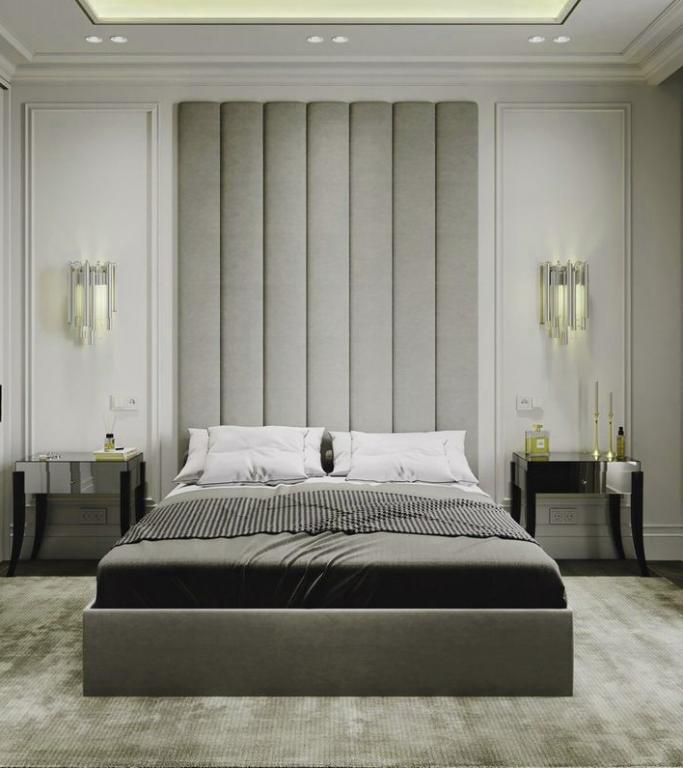 You might be familiar with a 3d panelled wall but have you ever heard of a Panelled Headboard? If not then let us tell you that a panelled Headboard is just like a panelled wall but is soft in texture, so that you can easily rest your head on it. This kind of Headboard is becoming more and more popular every other day and you should also get it for your bed as it has a royal feel and can make your bed look extraordinary.
Finally, these best unique bed headboard ideas designs ideas are beyond Amazing and you should try them at our recommendation.